Find the best Wi-Fi hotspot or password with WiFi Warden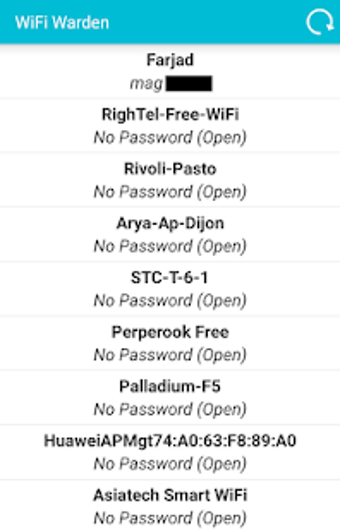 1/17
FREE access to millions of Wi-Fi passwords and hotspots shared by our community.
Haven't you always wanted to know how others are accessing all these free internet access points? Now it's easier than ever!
By using WiFi Warden, you can find the best WiFi hotspot or password for your current location or anywhere else in the world. But WiFi Warden also has more features than just a WiFi search! You can see who is connected to your Wi-Fi network and test your internet connection speed. You can also share your own Wi-Fi passwords with the community.
WiFi Warden only requires a minimum amount of mobile data to find the nearest Wi-Fi shared places nearby, then you can connect to them and enjoy free internet!
If you don't find any shared hotspots around you, don't worry. Give the community some time to grow. Over time, there will be more and more shared Wi-Fi points to help you get free Wi-Fi internet connections.
Using WiFi Warden, you can:
• Connect to hotspots shared by others
• Filter for the nearest Wi-Fi network nearby
• See who is connected to your Wi-Fi
• Check your internet connection speed
• Analyze Wi-Fi networks
• Connect to Wi-Fi using WPS
• Calculate the WPS PIN codes of some routers
• Create strong passwords
• View saved Wi-Fi passwords (requires root)
• Find open device ports on the network
• And many other functions …
Do i need to root my device?
Most functions do not require administrator rights. However:
• To connect using WPS your phone must be rooted to Android 9 or above, but if you are using Android 5 to 8, you don't need to root your device.
• To obtain the serial number of the access point: You need administrator privileges on all versions of Android.
• To check the WPS lock: You need administrator privileges on all Android versions.
Please note:
* WiFi Warden is not a hacking tool. Hacking is illegal.
* To get the closest shared hotspots for the new region and for the first time, you need an internet connection.
* Connection using WPS does not work on all routers. The reason is not WiFi Warden, but the router! In such cases, use a password to connect to Wi-Fi.
* To connect to WPS, the AP must have WPS enabled. Access points with WPS enabled are marked with the word "WPS" in red.
* As of Android 6 (Marshmallow), location permission is required to display Wi-Fi networks around you.
* Don't ask me to add more WPS PINs. If I find a new WPS PIN, I will include it in a future version. if the router's PIN code is not available in the app, check the product label for it.
* You need Android 6 (Marshmallow) or later to see channel bandwidth.
* Currently, the enhanced security guidelines are only available for Asus, TP-Link, D-Link and Zyxel routers.
* It is better to use the root method to test the zero pin code.
* The distance to the router is calculated from the path loss formula in free space. This number is approximate.
* In-app purchases are for ad removal only. The app sells nothing. All functions are available for free.
* Connection via WPS PIN without rooting, does not work on some LG and Huawei devices. This is a software issue from LG and Huawei, not WiFi Warden.
* Some Samsung devices may use encryption and not display real passwords. If you want to know how to decrypt them, do a search on the Internet or contact me.
* Some of the tools of this app (notably the WPS connection) have been developed for testing and education purposes. Use it at your own risk. The developer of this application assumes no responsibility.
* Before leaving a comment, please make sure you know how the application works.
Technical
Title:

WiFi Guard 3.4.9.2 for Android

Requirements:

Tongue:

English

Languages ​​available:

English,
German,
Russian,
Portuguese,
Portuguese,
French,
Arabic,
Spanish,
Turkish

License:

Free

Date added:

Tuesday, June 22, 2021

Author:

EliyanPro

http://rockpaperscissors.app/

SHA-1:

229599ba47b30a97e6e0ac0b967d0e3d476f9880

Download options:

APK, Google Play

File name:

com-xti-wifiwarden-212-60886766-b6e4f8900b64994dcef9b4446bff1b63.apk
Change log
We don't have any changelog information for version 3.4.9.2 WiFi Warden yet. Sometimes publishers take a while to release this information, so check back in a few days to see if it has been updated.
Download WiFi Warden APK for Android Latest Version 2021