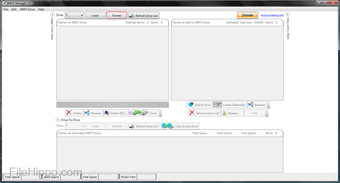 WBFS Manager is a basic but useful application that provides a GUI for working with hard drives that have been formatted with the WBFS file system.
Key Features Include:
Drag and drop support to add multiple files to a WBFS drive at once.
Batch processing of multiple ISO images.
Rename the disks on the WBFS drive.
Create a Homebrew Channel entry.
Possibility to use more than one cover catalog.
Extraction and batch removal.
Automatic extraction of RAR archives.
List of games with titles, sizes and codes.
Indirect drive for transfer and cloning.
Easy to use interface.
Export game lists to .CSV.
Multilingual support.
Create a channel.
WBFS Manager is easy to install and run. After following the installation instructions, simply plug in the hard drive or USB stick you want to use and launch the application. When finished, you will be given the option to choose the correct drive letter, click Load. You should now see all backups on disk in the left pane. ISO files can be dragged and dropped from Windows Explorer into the right pane, or you can manually browse the files if you like. Finally, click the Add to Disk button to copy them to your WBFS drive and voila!
System Requirements: .NET Framework 3.5 SP1.
Technical
Title:

WBFS 4 Manager for Windows

Requirements:

Windows Vista,
Windows 2003
Windows XP,
Windows 98,
Windows 8,
Windows 2000,
Windows 10,
Windows 7

Tongue:

English

Languages ​​available:

English,
German,
Spanish,
French,
Italian,
Japanese,
Polish,
Chinese

License:

Free

Date added:

Tuesday, March 8, 2016

Author:

AlexDP

https://www.wbfsmanager.codeplex.com

SHA-1:

571d2f1faa0eaaf2d026133291c1766219160e90

File name:

wbfsmanager.zip
Change log
We don't have any changelog information for version 4 of WBFS Manager yet. Sometimes publishers take a while to release this information, so check back in a few days to see if it has been updated.
Download WBFS Manager for Windows Latest Version 2021