Free mod for the game Victoria 2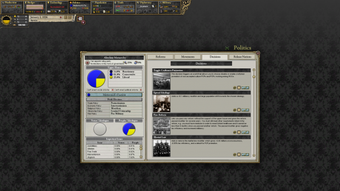 1/5
Victory Universal Mod to free game modification for the great strategy game Victoria II: Heart of Darkness, published by Paradox Interactive. It adds several improvements to the original game mechanics, making the game more fun. For other strategy games and mods like this one, you can have a look at RA3 Epic War Mod and Warzone 2100.
The most important aspect that is changing is how you can develop your countrymaking it easier than the original. There are also necessary economic improvements to prevent your economy from collapsing in various scenarios. Some Defense and Attack Traits have been updated to be more visually accessible.
It improves the development of the country
The original game only had a few options for your country's development. Victoria Universalis Mod gives you more mechanics so you can enjoy the process more. For example, you can go to the provinces to see what events are taking place that may provide certain bonuses.
You will also find many general options when making decisions between nations. Instead of sticking to your country's default bonus, you can now choose from several based on an updated process of creating the idea of ​​a nation or system.
Economic renovation
One of the frustrating parts of Victoria II: Heart of Darkness is that there have been many economic crashes or RGO unemployment rates. To solve this problem, Victoria Universalis Mod adds the World Reserve Bank as unplayable nation. Provides unlimited commodities to trade as well as gold income on a large scale.
Additional color updates
While there aren't many updates to the combat mechanics, you'll be able to see the details of the bonuses better. Some generals provide bonuses domestically, but the dashboard is difficult to access. Victoria Universalis Mod adds colorful bookmarks so you can quickly identify the different characteristics.
Increase your power
Victoria Universalis Mod makes playing Victoria II: Heart of Darkness a lot easier, especially for players who found it difficult. The economic part is by far the biggest benefit as you can now better manage your funds and prevent the economy from collapsing. Now we have an unlimited supply of gold and products.
You will also have more political and decision options to help you manage your country. Watch out for colored tabs alongside your bonuses, with enhanced visuals for quick identification. Overall, the renovation is a huge improvement in many ways.
Technical
Title:

Victoria Universalis Mod 0.65 for Windows

Requirements:

Windows 10,
Windows 7,
Windows 11,
Windows 8,
Windows 8.1

Tongue:

English

License:

Free

Date added:

Tuesday, April 12, 2022

Author:

Vic1984

https://www.moddb.com/members/vic1984

SHA-1:

1dbc1c78b3fe690334fc399b47c86b67aec71b69

File name:

Victoria_Universalis_v0.65.zip
Change log
We don't have any changelog information for version 0.65 Victoria Universalis Mod yet. Sometimes publishers take a while to release this information, so check back in a few days to see if it has been updated.
Download Victoria Universalis Mod for Windows Latest Version 2021