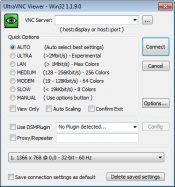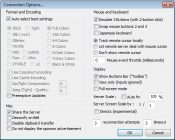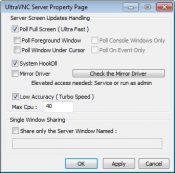 UltraVNC is a remote control application that allows you to connect to and control a remote computer with your keyboard and mouse as if you were sitting in front of that computer.
Remotely controlling another computer is an important task for many people. Some do it for their job because they need to provide support to their clients.
Sometimes it could be, for example, showing someone how to do something or performing a task remotely from your home computer on your work computer.
It is a popular application for connecting to another computer remotely as it provides access to a remote computer.
It allows you to control a remote computer as if you were sitting in front of it, which is great if you want to be in control of your computer.
Simple remote connections
When you want to use UltraVNC on your and another computer, you must first configure the application and create a connection to the remote computer. This means that if you want to remotely control your computer, you will also need to install the application on the target computer.
After that, establishing a connection should be fairly straightforward. You must set two different passwords to have full access to the computer in question.
You can also decide in which mode you can watch the remote computer – full control or observe the only mode. It will depend on what you need here.
Works smoothly
We tested the application ourselves and during the tests we found that when properly configured it works smoothly.
The connections are pretty fast and you will see that there will be minimal latency when working remotely on another computer which is quite important for a better workflow.
This remote desktop software integrates a video driver and multiple monitors support server side scaling, auto reconnect, and a Java viewer.
Application
UltraVNC is a popular application that allows you to easily remotely control another computer.
Features and Benefits of UltraVNC:
Compatible with RealVNC, TightVNC, and most other VNC flavors

Encryption plugins allow secure connections
File transfer functions

Quick conversation functions
File name:
UltraVNC_1_3_60_X86_Setup.exe
MD5 checksum:
0555B5C1A104A28107DBA816CC554A55
Supported operating system
Windows 11 / Windows 10 / Windows 8 / Windows 7
Download UltraVNC 1.3.60 Latest Version 2021