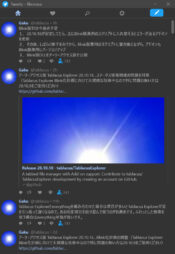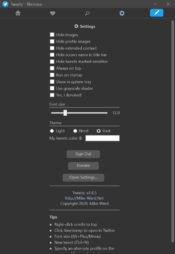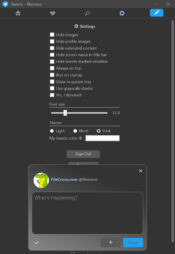 Tweetz is a lightweight tool that allows you to connect your desktop to your Twitter account and view tweets and timelines right from your desktop.
With millions of active users, Twitter is one of the most popular types of social media today. It is known for current content and instant updates so you can see the latest news first.
For this reason, it has also become a platform you don't want to miss at any time, especially if you are looking for news and constantly refresh your Twitter timeline.
Tweetz helps you to see tweets and timeline on the desktop of the operating system. It is designed to bring you the latest news and the timeline you see on Twitter to your computer without opening your browser and forcing you to open an account and log in.
Various tools to facilitate access to Twitter
Tweetz it's known for its ease of use and a fairly accessible interface which is great for anyone with little experience with this social platform. It has a minimal interface where you can resize at any time.
You'll be able to quickly and instantly see the news, tweets, and timeline of your Twitter account.
You can also make some adjustments with this tool. You can adjust the app's font size to easily see tweets and the timeline.
You can also change the brightness, which makes it easier for you to see things. There are also alarms that you can set for your account, so you can see the latest news and tweets for which you have set alarms.
Refresh the timeline
You can stay up to date with this application, so you don't even have to go to your browser and log into your account.
You can refresh the timeline yourself or you can set it to auto refresh in this tool so you can always see the latest news. It allows for a very comfortable operation, which relieves you from all the hardships of refreshing.
Application
Tweetz is a simple and intuitive tool that will help you see Twitter timeline and direct messages right from your computer desktop without launching a browser.
File name:
tweetz-setup.exe
MD5 checksum:
EF942CB62B9946675D9CB50A8E8C5AA9
Supported operating system
Windows 11 / Windows 10 / Windows 8 / Windows 7
Download Tweetz 2022.1 Latest Version 2021