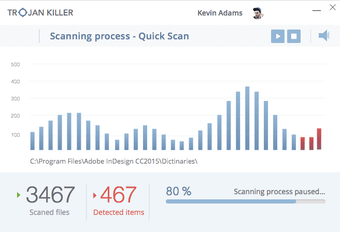 Trojan Killer Portable is an excellent scanning and removal tool that has been specially developed for use with a USB drive.
With Trojan Killer Portable, you can scan and disinfect computers wherever you are, without installation. It helps protect against cyber threats and protect your private data, no matter what computer you use or where you use it.
Trojan Killer Portable is a great tool that can automatically remove viruses, bots, spyware, keyloggers, Trojans, scareware and rootkits without having to manually edit system files or the Windows registry.
Additionally, Trojan Killer Portable repairs system modifications introduced by malware and which are often ignored by other popular antivirus scanners.
Trojan Killer Portable is lightweight, easy to use, and quite powerful. It consumes a negligible amount of system resources and can be operated by users of all levels of knowledge.
Technical
Title:

Trojan Killer Portable 2.1.100 for Windows

Requirements:

Windows XP,
Windows 10,
Windows 8,
Windows 7,
Windows Vista

Tongue:

English

Languages ​​available:

License:

Free

Date added:

Friday, August 3, 2018

Author:

Gridinsoft

http://www.gridinsoft.com

SHA-1:

7a11cd5107465f06d5c859e1a0ebcf91329dbdee
Change log
We don't have any changelog information for version 2.1.100 of Trojan Killer Portable yet. Sometimes publishers take a while to release this information, so check back in a few days to see if it has been updated.
Download Trojan Killer Portable for Windows Latest Version 2021