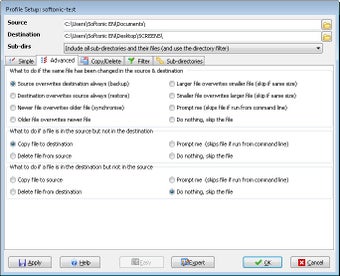 1/7
SyncBack has grown to become world class in backup and synchronization software. Whether you are a beginner or advanced user, at home or at work, SyncBack protects your most valuable assets and data.
Backup – protect your data.

Restore – Recover lost files easily.

Copy Open Files – Live document backup.

Versioning – Keep previous versions.

Incremental Backups – Does what is required.

FTP and e-mail – online access.

Performance and throttling – as fast as possible.

Synchronize – work with 2 or more computers.

Safe – keep confidential data private.

Compression – keep files small.

Automation – set it and forget it.

Advanced Personalization – A great array of options.

Supported operating systems are Windows 8, Windows 7, Windows Vista, and Windows XP. Both 32-bit and 64-bit versions of Windows are supported.
Technical
Title:

SyncBack 10.1.24.0 for Windows

Requirements:

Windows 8.1,
Windows 8,
Windows 11,
Windows Vista,
Windows 10,
Windows 7

Tongue:

English

License:

Free

Date added:

Thursday 17th January 2019

Author:

2 bright sparks

http://www.2brightsparks.com

SHA-1:

307c19c4fbc7ae9c68c7eeda58dc20863c04195c
Change log
We don't have any changelog information for version 10.1.24.0 of SyncBack yet. Sometimes publishers take a while to release this information, so check back in a few days to see if it has been updated.
Download SyncBack for Windows Latest Version 2021