Advanced statistical analysis program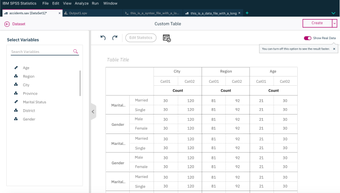 1/5
IBM SPSS is statistical software that provides advanced predictive analytics, machine learning algorithms, and text analytics for researchers, research companies, data explorers, and government agencies. It is able to integrate and implement information in data processing applications in research projects of any size and complexity level. They allow organizations to solve research problems, improve their performance, minimize risk and predict results. SPSS includes SPSS Statistics and SPSS Modeler. The first is a test hypothesis while the second is generating the hypotheses. All the mentioned functions are available in IBM SPSS for Windows which is compatible with all Windows devices running Windows XP or higher.
Easy-to-use data analysis tool
The IBM SPSS is aimed at professionals in the fields of social science, statistics and data analysis, but advanced users can simply use it to manage different numbers and cases. This includes selecting a case, reshaping the file, outputting data, and creating a metadata dictionary. SPSS functions are presented by default in the drop-down menus, but can be programmed using the 4GL command syntax language. CSL simplifies the repeatability of information consolidation. You can also add a macro language to write command language subroutines.
The SPSS user interface offers two displays, both of which are switchable. Two tabs are displayed in the lower left corner of the window, one is titled Data view and the other is titled Variable view. The Data view is similar to a spreadsheet, while the Variable view displays all the factors of each data point in the metadata dictionary. All of these functions are displayed in a simple and organized interface, making it a suitable tool for all users who need a statistical programming language to manage information and create decision trees.
Technical
Title:

SPSS 28 for Windows

Requirements:

Windows 8,
Windows Vista,
Windows 8.1,
Windows XP,
Windows 7,
Windows 10

Tongue:

English

Languages ​​available:

English,
Arabic,
Czech,
Danish,
German,
Greek,
Spanish,
Finnish,
French,
Italian,
Japanese,
Korean,
Dutch,
Norwegian,
Polish,
Portuguese,
Russian,
Swedish,
Turkish,
Chinese

License:

Trial version

Date added:

Thursday, March 12, 2020

Author:

Spss

https://www.ibm.com/uk-en/marketplace/spss-statistics
Change log
We don't have any changelog information for SPSS 28 yet. Sometimes publishers take a while to release this information, so check back in a few days to see if it has been updated.
Download SPSS for Windows Latest Version 2021