Free, fast and secure VPN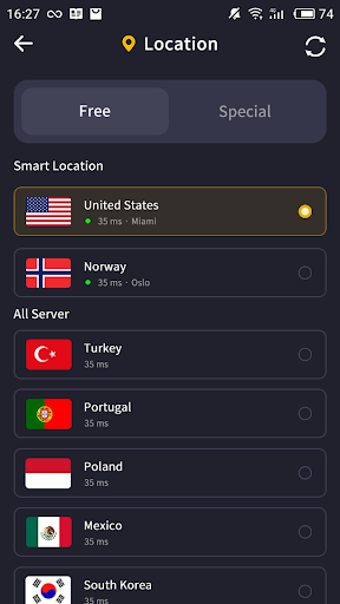 1/4
Speed ​​VPN is a tool that gives you high-speed internet while protecting your privacy and keeping you secure while you're online. The virtual private network (VPN) provides a free, unlimited proxy client for your Android devices.
Fox One Studio developed Speed ​​VPN for Android 5.0 and higher. You can download it for free or try these VPN alternatives: Atlas VPN, Free VPN Tomato or SuperVPN Free VPN Client.
Best features
Speed ​​VPN gives you access to many servers to ensure a high-speed internet connection. You get unlimited time, data and bandwidth usage, without any registration. It protects your privacy since it doesn't save activity logs. It will only record your activity if you experience an issue and use the feedback option. The app is simple to use and lets you connect with just one click.
Why use a VPN?
A virtual private network protects you from phishing and hacking attacks. It also blocks malicious sites that can infect your phone with viruses and malware. Since it hides your IP address, there's no tracking of your internet activities — it removes restrictions based on your location. This means you can access all content on platforms such as Netflix and YouTube. It's beneficial when you use a borrowed computer or connect to public or unsecured Wi-Fi.
How to use
You'll see a round power button in an orange circle when you start the app. Simply tap this button to begin your secure and private connection. Underneath is an oval button when you need to disconnect. It also shows you in which country the server you're using is located. Finally, you can watch your download and upload times.
Troubleshooting
Should your connection fail, you can switch to another server. If you experience a slow internet connection, it may help to change to a server in a different country.
Access a high-speed VPN
Speed ​​VPN provides a high-speed internet connection through various servers and keeps you safe while online. It ensures your privacy by hiding your IP address to prevent any tracking of your activities. Itt never logs any of your browsing activity or log-in details. Speed ​​VPN is simple to use, even for beginners.
Technical
Title:

Speed ​​VPN 1.1.1 for Android

Requirements:

Android 7.0,
Android 8.0,
Android 5.0,
Android 9.0,
Android 6.0

Language:

English

License:

Free

Date added:

Tuesday, January 18th 2022

Author:

Fox One Studio

Download options:

APK, Google Play

SHA-1:

c59ebf18fe131fdf9feb7d0250018d66e7f450ec

Filename:

SpeedVPN_1.1.1_.apk
Changelog
We don't have any change log information yet for version 1.1.1 of Speed ​​VPN. Sometimes publishers take a little while to make this information available, so please check back in a few days to see if it has been updated.
Download Speed VPN APK for Android Latest Version 2021