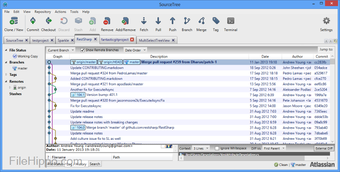 SourceTree is a cool alternative to the git command line. It's a quick and easy way to work with Git and Mercurial, especially if you're using Git Flow and looking for free software.
Code workflow management in SourceTree is intuitive and can logically simplify most git tasks.
Key Features Include:
SSH authentication.
Fully powered DVCS.
Intuitive user interface.
Git-flow support
Hg flow support
Merge without fast forwarding.
Conflict resolution.
With SourceTree, you can easily use both distributed version control systems from one application. Work with GitHub, Bitbucket and Kiln accounts without leaving the app. SourceTree also works with Subversion servers. With SourceTree, you can make the most of Git and Mercurial. With the simple SourceTree interface, you can manage all your repositories, whether they're hosted or local.
Overall, SourceTree is great for both newbies and experts. It allows you to manage online or local hosted Mercurial and Git repositories without the need for a terminal. The graphical user interface provides quick and smooth access to a variety of work tools.
Technical
Title:

SourceTree 3.4.7 for Windows

Requirements:

Windows 8.1,
Windows 10,
Windows 8,
Windows 7

Tongue:

English

Languages ​​available:

English,
Czech,
German,
Spanish,
Finnish,
French,
Italian,
Japanese,
Korean,
Dutch,
Polish,
Portuguese,
Russian,
Chinese

License:

Free

Date added:

Wednesday, February 20, 2019

Author:

Atlassian

https://www.atlassian.com

SHA-1:

ed507eb6b46590043752eb8f185e7296af9b411a
Change log
We don't have any changelog information for version 3.4.7 SourceTree yet. Sometimes publishers take a while to release this information, so check back in a few days to see if it has been updated.
Download SourceTree for Windows Latest Version 2021