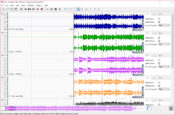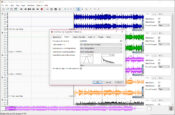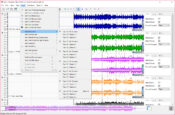 Sound analysis is easy with Sound visualization. It is a tool that will help you make sure that you are viewing and editing all the audio files you have.
You will be able to view them in wave format, so you can easily analyze each part of a song or audio file, compare the signals with other files, and create annotations to prepare notes while viewing these files.
It supports various formats
This tool is a very versatile tool with extensive support for many different song formats. It is aimed mainly at music technicians, although almost everyone who deals with music will use this tool effectively.
It is also a popular tool. One of the biggest things that makes it so popular is the ability to change and view different formats, especially the most popular ones today.
This application is compatible with WAV, MP3, AVR, FLAC, OGG, RAW and some other formats that are not as widespread as AU, CAF, HTK, IFF, MAR, MPC, PVR, RF64, SDS and others.
Compare and visualize audio files
When you open an audio file in the format you prefer, you can browse it and annotate the files in it. You can also display them in waveform to see where certain parts of the audio file are happening.
You can easily adjust the zoom level both vertically and horizontally.
It allows a more detailed analysis of files. You can also slow them down and play them back, making it easier to edit files and explore them more fully.
Application
Sound visualizer is an open source audio analysis tool that will help you analyze audio files, annotate, compare signals and display the waveform of any audio file.
File name:
sonic-visualize-4.4-win32.msi
MD5 checksum:
253BB937F29C7FDD97C62E19B0DDC9AB
Supported operating system
Windows 11 / Windows 10 / Windows 8 / Windows 7
Download Sonic Visualiser 4.4 Latest Version 2021