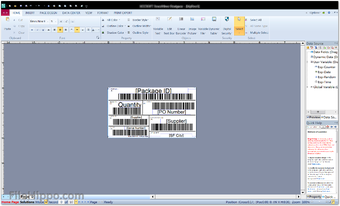 Variable Data Printing (VDP), also known as Variable Information Printing (VIP), is a form of digital printing that can include on-demand printing in which items such as text, graphics and images can be changed from one printed item to the next without pausing or slowing down the printing process.
SmartVizor variable data printing software is a standalone, powerful and extremely easy-to-use variable text printing application. It can be used to create personalized communication and professional one-to-one documents. It is one of the cheapest fully functional variable text printing solutions on the market. With SmartVizor variable data printing software, you can connect any project to any database and print to any printer.
Easy to learn: Has a user-friendly interface and dynamic online training tools.
Easy to use: Create VDP print jobs in minutes with powerful drag-and-drop functionality.
Fast: Reduce production time with short set-up times and quick print stream creation. Fast, high-volume mail merge printing thanks to optimized results.
There are many different uses for which it can be used, but it is mainly used for direct marketing, customer relationship management, advertising, invoicing, brochures or postcard campaigns. For example, a set of personalized letters, each with the same basic layout, can be printed with a different name and address on each list.
Key Features Include:
Barcode label printing software.
Bill statement software, security printing software.
Template designer, data processor, printing, archive, e-mail, fax.
Overall, SmartVizor's variable data printing software is both professional and easy to use. It uses the latest variable data printing technology and provides a high quality product.
Technical
Title:

SmartVizor 37.5.211.108 variable data printing software for Windows

Requirements:

Windows 95,
Windows 98,
Windows Vista,
Windows 7,
Windows 2000,
Windows ME,
Windows XP,
Windows NT,
Windows 8,
Windows 2003

Tongue:

English

License:

Trial version

Date added:

Wednesday, February 14, 2018

Author:

Uccsoft Inc. software

https://www.uccsoft.com

SHA-1:

b867c5439e729e4e4ffb7e706327573e78f825fe
Change log
We don't have any changelog information for version 37.5.211.108 of the SmartVizor variable data printing software yet. Sometimes publishers take a while to release this information, so check back in a few days to see if it has been updated.
Download SmartVizor Variable Data Printing Software for Windows Latest Version 2021