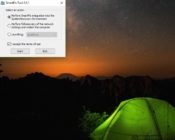 If you want to optimize your computer and fix various system problems, you can use SmartFix Tool, an effective tool that will help you remove system problems and even remove malware components.
Starting your computer can be problematic at times, especially when it doesn't work as it should. This is when you need to start diagnosing the problems you encounter, and this can get even more difficult if you don't have the right software.
By using it, you will be able to overcome some of the major troubles and issues that may arise during system boot. It will help you overcome system problems and remove malware components that may appear on your computer frequently.
Even if there is no documentation in English, you will be able to make it run without too many problems.
A simple tool to use
SmartFix Tool it is very easy to use. You can start integrating with the system recovery environment to make sure it works every time you need it. Thus, you can run this application even when Windows cannot be started, which allows you to get rid of system problems easily.
Unfortunately, there is no documentation in English, but you should still be able to fix the issues.
Get quick access to the program and run it
The great thing about this tool is that it is very easy and quick to run. All you need to do to run it is press F8 and the program will start. However, it would be best if you did this while your computer starts up.
You have to follow the instructions inside to get things done easily – with just a few mouse clicks.
When you run it, you can integrate SmartFix to Windows System Restore or perform a full network settings recovery. Moreover, the app helps you to use tools like AutoRuns, Dr.WEB CureIt! and AdwCleaner to get rid of any ads that are slowing down your computer.
Application
SmartFix Tool is a great and effective tool for solving system problems and removing malware from your computer.
MD5 checksum:
A914E56B63338E492FA2F1A6B37C49A7
Supported operating system
Windows 11 / Windows 10 / Windows 8 / Windows 7
Download SmartFix Tool 2.4.2.0 Latest Version 2021