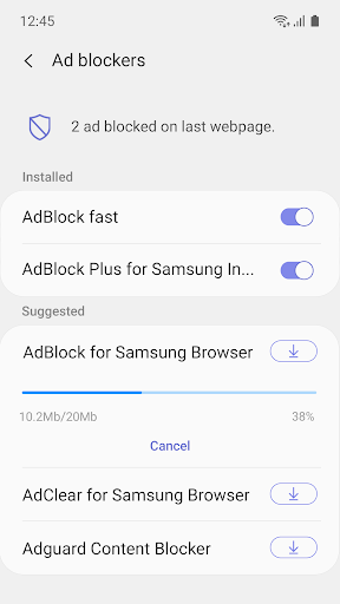 1/5
New features for you
* Improved privacy function (Security Control Panel)
Check the operation of the personal data protection function with ease on the chart and try to use the different protection functions.
* Supports font application on websites
Try to apply your favorite font to websites as well. However, it may affect the layout of the website.
* Improved Smart Anti Tracking (Smart Anti Tracking 3.0)
The Smart Anti Tracking feature that blocks content that tracks users' browsing activity has been improved.
protection and privacy
Samsung Internet helps protect your security and privacy while browsing the Internet.
* Intelligent tracking prevention
Intelligently identify cross-site tracking domains and block memory (cookie) access.
* Protected browsing
We warn you before you can view known malicious sites to prevent you from visiting websites that may try to steal your data.
* Content blockers
Samsung Internet for Android allows third-party applications to provide filters for content blocking, making browsing safer and more simplified.
The application service requires the following permissions.
For optional permissions, the default functionality of the service is enabled but not allowed.
[Required permissions]
No
[Optional permissions]
Location: Used to deliver location-based content requested by the user or location information requested by the website being used
Camera: It is used to provide website shooting function and QR code shooting function;
Microphone: It is used to provide recording function on the website
Contacts: Receives account information of the cloud sync device
Storage: Used to store files while downloading from websites
Technical
Title:

Samsung web browser 16.0.6.23 for Android

Requirements:

Tongue:

English

Languages ​​available:

English,
Korean,
German,
Russian,
Portuguese,
French,
Chinese,
Spanish,
Polish,
Turkish,
Italian,
Chinese,
Japanese

License:

Free

Date added:

Tuesday, June 22, 2021

Author:

Samsung Electronics Sp.

https://www.samsung.com/sec/samsung-pay/

SHA-1:

86ad6f2c662a9af529056ea13c97cc92bd9316aa

Download options:

APK, Google Play

File name:

com-sec-android-app-sbrowser-1160623502-61323216-6f51a58b92ebb723a7255b3ef69e9f63.apk
Change log
We don't have any changelog information for version 16.0.6.23 of the Samsung web browser yet. Sometimes publishers take a while to release this information, so check back in a few days to see if it has been updated.
Download Samsung Internet Browser APK for Android Latest Version 2021