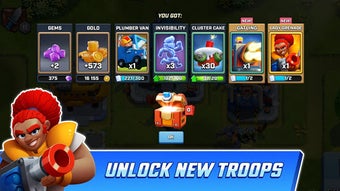 1/10
Rush Wars allows you to join or build a team and face off against opponents to win gold. You can find and raid gold mines, discover new maps, unlock new troops and join your team or build your own. The graphics in the game will appeal to younger players, but you must be at least 13 years old to play.
Fast and fun
Enjoy the challenge of this fast and well-designed strategy game. There is no need to wait for soldiers to prepare for battle or to design defense bases, so join your squad and start fighting!
Big teams win
Build a powerful team with different powers and compete against teams from all over the world. Devise your strategy to outsmart your opponents and use the unique skills of exciting new commanders to lead your team into battle.
Attack and defense
Go on the offensive and create an assault squad and defeat your opponents in battle to receive gold. Raid enemy bases and mines to get their money and get mega rich. Play smart and fortify your base to defend yourself against various threats.
Fun for everyone
This title has fast-paced gameplay where you can get into battle quickly and win a variety of prizes. It's a casual game that appeals to a wide audience.
Technical
Title:

Rush Wars 0.284 for Android

Requirements:

Android 7.0,
Android 8.0,
Android 6.0,
Android 9.0

Tongue:

English

License:

Free

Date added:

Tuesday 15th October 2019

Author:

Supercell

http://www.supercell.com

SHA-1:

1346751c4e841687d6cdeb96007f60a0155c65ae

Download options:

APK, Google Play

File name:

rush-wars_0.284.apk
Change log
We don't have any changelog information for version 0.284 of Rush Wars yet. Sometimes publishers take a while to release this information, so check back in a few days to see if it has been updated.
Download Rush Wars APK for Android Latest Version 2021