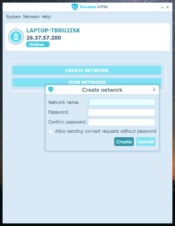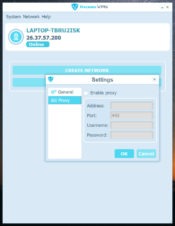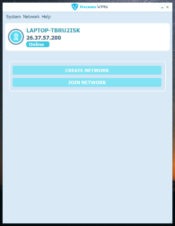 Radmin VPN is a great option if you want to create virtual private networks that you can use for a variety of reasons including gaming, online security and more thanks to the features of this tool.
It is intended to be an intuitive application that helps users create virtual private networks and connect to networks created by other users.
This is followed by an intuitive interface that makes it easy for users to create these networks and easily and quickly join other networks.
Good for beginners
Great thing Radmin VPN is that it can provide a good level of performance even for those users who don't have much technical knowledge.
First, it's worth mentioning that you'll have to install the app, but it won't offer any additional software along the way.
To get started, you can start creating new VPN tunnels with a few clicks. In the menu you will be able to see established contacts and those with whom you have connected in the last few days or recently.
From there, you'll be able to see information like your IP address and copy it to your clipboard in case you need it later.
Connect to a VPN and create your own
Radmin VPN is a good tool for creating VPNs that other users can use. To do this, you will have a wide array of options and features to configure your network.
You'll be able to access the node's operations and features, change credentials that allow users to connect to the network, and more.
At the same time, you'll also be able to connect to other networks along the way. You can also use Radmin Remote Control, which will come in handy if you need a way to remotely connect to another computer of your choice.
Application
Radmin VPN is a handy tool for creating a VPN and connecting to other networks, allowing you to safely browse the web and play games.
Final version:
1.2.4457.1
File name:
Radmin_VPN_1.2.4457.1.exe
MD5 checksum:
D684F7856EF5BA19EE5FE4D523993E73
Supported operating system
Windows 11 / Windows 10 / Windows 8 / Windows 7
Download Radmin VPN 1.2.4457.1 Latest Version 2021