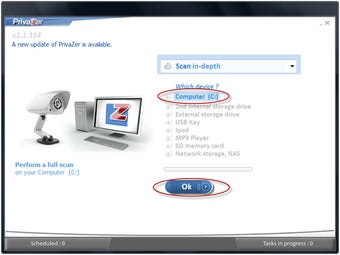 1/4
PrivaZer is a free cleaning tool that helps you master security on your computer. The application has been designed to permanently and irretrievably remove unwanted traces of your previous activity on your computer and mass storage devices, such as USB keys and external drives. This makes it impossible for others to recover what you watched, streamed, or visited on the internet. It also frees up valuable hard disk space and keeps your computer safe.
PrivaZer scans your computer and provides you with a complete report of all Internet traces that can be found on your computer. After that, you can review the results in detail and safely delete them from your hard drive. As the app performs a thorough scan, it contains common traces such as registry, internet history, and cookies. It can also look for potential traces in sectors of free disk space.
PrivaZer is able to permanently erase all traces using secure erasure methods as well as reset disk sectors to zero to eliminate all traces from previous operations. Depending on the size of your hard drive and the amount of data, the initial scan and cleaning may take some time.
Other features include scheduled cleanup, auto registry backups, USB history deletion, support for removable drives and USB keys, etc.
Technical
Title:

PrivaZer 4.0.36 for Windows

Requirements:

Windows XP,
Windows 8.1,
Windows 8,
Windows 11,
Windows Vista,
Windows 10,
Windows 7

Tongue:

English

Languages ​​available:

English,
German,
Spanish,
French,
Italian,
Portuguese

License:

Free

Date added:

Monday, June 10, 2019

Author:

PrivaZer

https://www.privazer.com

SHA-1:

c27d783f4751fed5494b4fb09a78de76a7b52271
Change log
We don't have any changelog information for version 4.0.36 of PrivaZer yet. Sometimes publishers take a while to release this information, so check back in a few days to see if it has been updated.
Download PrivaZer for Windows Latest Version 2021