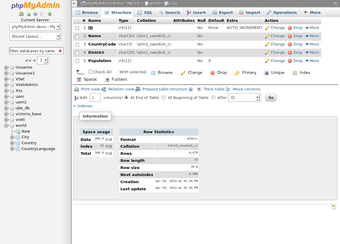 1/3
phpMyAdmin is a free PHP tool for administering MySQL on the web. phpMyAdmin supports a wide range of operations with MySQL.
Most MySQL features supported
Browse and delete databases, tables, views, fields, and indexes.
Create, copy, delete, rename and change databases, tables, fields and indexes.
Maintenance of the server, databases and tables with server configuration suggestions.
Execute, edit and bookmark any SQL statements, even batch queries.
Manage MySQL users and permissions.
Manage stored procedures and triggers.
Import data from CSV and SQL.
Export data to various formats: CSV, SQL, XML, PDF, ISO / IEC 26300 – OpenDocument Text and Spreadsheet, Word, Excel, LATEX and more.
Technical
Title:

phpMyAdmin 5.1.3 for Windows

Requirements:

Windows 8,
Windows Vista,
Windows 8.1,
Windows XP,
Windows 10,
Windows 7

Tongue:

English

Languages ​​available:

English,
Arabic,
Czech,
Danish,
German,
Greek,
Spanish,
Finnish,
French,
Italian,
Japanese,
Korean,
Dutch,
Norwegian,
Polish,
Portuguese,
Russian,
Swedish,
Turkish,
Chinese

License:

Free

Date added:

Thursday 6th June 2019

Author:

phpmyadmin

http://www.phpmyadmin.net/home_page/

SHA-1:

20e7b9958543f0818fcab26f3c53e56f4bfa0ed1

File name:

phpMyAdmin-5.1.3-all-languages.zip
Change log
We don't have any changelog information for version 5.1.3 of phpMyAdmin yet. Sometimes publishers take a while to release this information, so check back in a few days to see if it has been updated.
Download phpMyAdmin for Windows Latest Version 2021