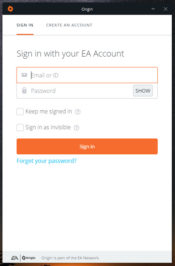 Origin is a gaming platform where you can buy games and manage your game library, as well as run your favorite games.
The gaming world is controlled by several gaming platforms that will host digital editions of games and sell them to developers. One of the most popular is Originwhere you will find popular games such as Start Wars, FIFA, Battlefield and many other classic games.
It is right behind the most popular Steam platform, though this space is becoming more and more competitive.
Buy and play new games
The platform is relatively easy to use. You can create a new account on it for free and log into the platform to download the launcher. And when you download the launcher, you need to login to the launcher where you will see all your games and the launcher store.
If you don't have any games yet, you can download them from the store that is inside Origin. In this store you will find daily offers and discounts on some of the most popular games such as FIFA, Battlefield and many more.
You can buy games from this platform and then play them easily, so you don't have to download the games separately.
The launcher will help you download the games you bought on the platform. From there, you can manage these games and sort them into categories if you like. In the favorites category you will be able to sort the games you really like to play, while in the library you will be able to see all the games you have on the platform.
Connect with your friends
At the same time, you can also add friends who are also using Origin so that you can play games or chat together. Adding new friends is easy as you have to enter their first name on this platform.
Then you can talk and communicate with them.
Application
Origin is one of the most popular game launchers that allows you to easily buy, install and organize your games.
Final version:
10.5.1109.49920
File name:
OriginThinSetup.exe
MD5 checksum:
BE13FBE4073702F18D419B86633F6C26
Supported operating system
Windows 11 / Windows 10 / Windows 8 / Windows 7
Author:
Electronic Arts Inc
Download Origin 10.5.109.49920 Latest Version 2021