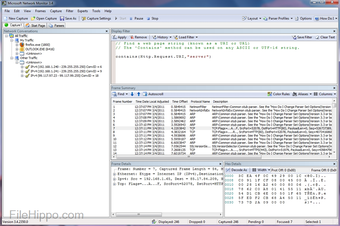 Network Monitor is a network diagnostic tool capable of monitoring local networks and providing a graphical display of network statistics.
Network administrators can use these statistics to perform routine troubleshooting tasks, such as locating a server that is down.
The application works by collecting large amounts of data from the network's data stream and displaying it accordingly. It can display the source address of the computer that sent the frame to the network, the destination address of the receiving computer, the protocols used to send the frame and data, or a portion of the message being sent.
Overall, Network Monitor is a great tool if you want to get complex information about your network. Though it is a bit confusing for people with no web analytics experience. Fortunately, extensive documentation is available to ensure users get a quick acquisition.
Technical
Title:

Network Monitor 3.4 2350 for Windows

File size:

6.41 MB

Requirements:

Windows XP,
Windows 2003
Windows 8,
Windows 98,
Windows Vista,
Windows 10,
Windows 2000,
Windows 7

Tongue:

English

Languages ​​available:

English,
German,
Spanish,
French,
Italian,
Japanese,
Polish,
Chinese

License:

Free

Date added:

Wednesday, March 23, 2016

Author:

Microsoft Corporation

http://microsoft.com

SHA-1:

e07cbd8e32cc41bb65f1a59241cbae0e929908ad
Change log
We don't have any changelog information for version 3.4 of Network Monitor 2350 yet. Sometimes publishers take a while to release this information, so check back in a few days to see if it has been updated.
Download Network Monitor for Windows Latest Version 2021