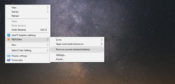 My folders offers an easy and simple way to access folders faster by adding them to the Windows Explorer context menu or File Explorer's favorites menu.
Everyone has folders on their computer that they access more often than others. Sometimes, however, accessing these folders can be time consuming.
There is an easier way to deal with these problems – with My foldersyou will be able to access your favorite folders with one or two clicks.
A simple application made for everyone
Basically, it is a very simple application to use. You will meet a very minimal UI where you can add folders to the folder list which will appear in the Windows Explorer menu. All you need to do is enter the selected folder into the list of folders that you want quick access to.
There are also minimal features that you will have access to in this app's window.
For example, you can add or remove folders from the list, add a separator to your folders, and easily import or export items to folders, making it much easier to organize files and folders.
Makes it easy to organize folders
If you want quick access to frequently used folders, this My folders it's a great app to use. With this application you will be able to add folders to the quick access menu of Windows Explorer or File Explorer.
So the next time you want to access a folder, you'll be able to access them from the Start menu.
In addition, you can also create a setting where you can access your folders via the command line.
This is another great way to open your favorite folders quickly, especially if you like using the command line.
Application
To sum up, My folders is an application designed for everyone who wants to have faster access to their folders and files. It is easy to use and offers some simple functions which makes it great for any user.
File name:
MyFolders_Installer.exe
MD5 checksum:
A295489C738E0168E242432657C140B2
Supported operating system
Windows 11 / Windows 10 / Windows 8 / Windows 7
Author:
Advice on basic technologies
Download MyFolders 7.1.2.45 Latest Version 2021