Chromium based web browser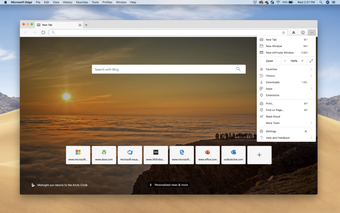 1/3
Microsoft Edge is a Chromium-based web browser that has a built-in tracker blocker and a malware detector. These features keep your search history and personal information safe. This also includes a "no log" feature, which means Microsoft will not store your browsing activity, internet files, or cookies on your device. Other features, such as InPrivate tabs and Microsoft Defender SmartScreen, protect you from websites that display suspicious phishing and virus-related activity or behavior. This combination of security and productivity tools will help you browse the Internet safely and efficiently.
Security related functionality
The main attraction of Microsoft Edge are the three main security features: Tracking Blocker, InPrivate Browsing Mode, and Defender SmartScreen. They prevent unauthorized users from viewing or accessing your data. For example, the Tracker blocker stops data miners and advertisers from extracting information from you. This includes the links you click and the pages you browse In addition to blocking users, it offers three levels of protection: Basic, Balanced and Strict.
You can choose any of the three tiers, but Microsoft recommends that you use the Balanced tier for sites that you haven't visited – but are related to your most recent activity on your computer – tracking. This is suitable for those who don't want content and ads to be personalized for them. If you want a specific website to send ads that match your search. You can take advantage of more security measures by browsing in Incognito mode. This prevents the browser and device from creating a log of searches.
The final layer of protection that Edge has is a cloud-based anti-phishing and anti-malware scanner. Responsible for analyzing websites before opening them. When it detects potential threats, it will display a warning page before redirecting to the site. This gives you time to report whether the site is secure or not. By detecting a false positive threat, Edge continues to find out which websites are safe.
Intelligent browsing
Microsoft Edge has its own internet search tool called Collections. It collects, organizes, shares and exports web pages to Microsoft Office programs such as Microsoft Word and Microsoft Excel. One way to add an active page is to use the context menu. This will allow you to select an image, text, link, and other content for your collection.
Everything that has been uploaded to the Collections page will be displayed in a visual tab so you can distinguish between them. Each tab has a site image, page title, and site name. This will help you when you need to go back to the page because you just need to click on its tab.
Outside the Windows ecosystem
Microsoft Edge integrates with the operating system, rather than competing directly with other browsers such as Google Chrome and Mozilla Firefox. Its features are focused on viewing and storing the information and media you are interested in. In terms of security, it is limited to blocking trackers, malware and phishing attempts. These are essential security features so you won't have to interact with malicious sites while browsing.
If you are looking for an alternative, you can try Avast Secure Browser.
Technical
Title:

Microsoft Edge 96.0.1054.57 for Mac

Requirements:

Tongue:

English

License:

Free

Date added:

Friday, July 3, 2020

Author:

Microsoft

https://www.microsoft.com/

SHA-1:

5fc568e01d7f4d6b184112299552e6f1f90b6571
Change log
We don't have any changelog information for version 96.0.1054.57 of Microsoft Edge yet. Sometimes publishers take a while to release this information, so check back in a few days to see if it has been updated.
Download Microsoft Edge for Mac Latest Version 2021