A trial application that protects against malware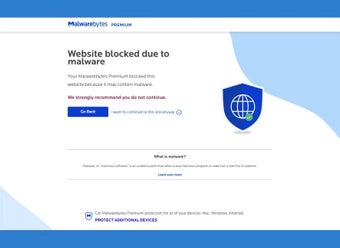 1/5
Malwarebytes is anti-malware software which comes with a free 14-day trial for you to test. The software can quickly detect and remove malware and other malicious code that the antivirus program does not usually detect. This application does not replace any antivirus service, but works with it to protect your computer from harmful programs.
Antivirus add-on
Malwarebytes is a powerful add-on to any antivirus software that scans for new applications before they can damage your computer. After the free trial period ends, you can choose the free quote option to get Cleaning Malwarebytes functions still available. Other pricing tiers add the option to protect your computer and adjust the number of devices that one license can protect.
The software is very cost effective as it only requires an 800 MHz processor and 250 MB of hard disk space. The application can run on old or new computers and laptops, thanks to the small size of the system.
Stops malware
The main use of Malwarebytes for catching and prevent malware from appearing on your computer. Instead of generic names displayed by most antivirus programs, you'll see a brief description of the malware it detects and how it works on your computer.
Privacy protection
Malwarebytes 4.0 protects your private information from hackers who use viruses or other malicious code to infect your computer and steal this information without your consent. This personal data includes name, address, contact details and banking information.
However, the program collects personal information that may be of concern to users. Malwarebytes says it will only provide this to law enforcement or to meet security and information standards. However, if something happens to the company and they liquidate the assets, your information will be sold to the buying company.
Online protection
The app goes beyond protecting against malware via preventing phishing and fraud when shopping online. this network protection blocks scams, phishing sites, infected sites and malicious links. This browser protection keeps your purchases safe, signing up for services, and any other tasks you need to complete.
After the 14-day trial period ends, this is one of the services that won't be available until you purchase the premium version.
Plays without interruptions
Nothing bothers you while playing Malwarebytes notifications which would normally appear on your computer. This setting keeps you safe without interfering with the leisure activities you enjoy. The application does not slow down the system while it is running.
Clean up your computer
For any version of the application, Malwarebytes may: clean the infected computer to remove any viruses or malware and other malicious codes that already exist on it. This feature supports the main function of the application, which protects your computer from malware and protects your private information.
Installation on an infected computer
Malwarebytes also ran ahead thanks to "Kameleon". It is an installer that allows you to install the program on computers with malware. Certain malware may block the installation of programs in particular, especially programs such as Malwarebytes. Chameleon helps you install applications even if malware tries to block them.
Not an antivirus replacement
Malwarebytes is not a replacement for your antivirus program. Installing the software yourself will expose your computer to virus and hacker attacks, as the free version only cleans an already infected computer. Malwarebytes Premium offers stronger protection, but can fail without the bundled antivirus.
It also doesn't offer any data recovery options in case your files are lost from attacks like photos, music, and videos.
Safe to use
Malwarebytes is completely safe to use and does not adversely affect the security of your computer. The application protects against malware, not malware itself. The software can run on weaker computer systems as well as many other devices, making it worth trying for users on any platform.
Free trial version
After the first download of the software, you will get 14-day free trial period for Malwarebytes Premium. After this period, you can choose the free version or the paid version which offers various features, however the free option does not provide additional protection for your computer.
The free version of the program only offers malware detection and removal or scanning. Premium offers all the features you learned during the trial period: real-time protection, ransomware blocking, network protection, and anti-exploit protection.
Alternatives
Malwarebytes is not antivirus on its own and therefore you may want to use an alternative application alone or in combination with this software.
Avast is an antivirus service that catches most threats as they appear. The software includes additional services that can speed up your computer or protect your IP address.
AVG is an antivirus software that allows you to deeply scan your PC's files for viruses or other harmful applications.
Bitdefender is an anti-virus application that provides real-time protection for your computer. The service also helps prevent phishing and fraud when shopping online.
Kaspersky is able to protect you from ransomware, viruses, spyware, and more. The application provides real-time protection while letting your computer perform as intended.
Malware protection
Malwarebytes is a decent addition to your standard antivirus software that helps keep your computer safe from malware. It has a 14-day free trial, and when it expires, you can choose the free clean-only option or a paid license that cleans and protects your PC.
Recent changes have improved the operation of the service and improved it exploit protection and remediation. Recently, in addition to performance improvements, a dark mode option was added to the application on the interface. Dark mode makes it easier to view your apps in low light conditions.
Technical
Title:

Malwarebytes Anti-Malware 4.4.8.238 for Windows

Requirements:

Windows 8.1,
Windows 10,
Windows 8,
Windows 7

Tongue:

English

Languages ​​available:

English,
Czech,
Danish,
German,
Spanish,
Finnish,
French,
Italian,
Japanese,
Korean,
Dutch,
Norwegian,
Polish,
Portuguese,
Russian,
Swedish,
Chinese

License:

Free

Date added:

Friday 8th February 2019

Author:

Malwarebytes

https://www.malwarebytes.com/

SHA-1:

9c3ddbdaf79b1ece068bd56c1dffcca92973e7af
Change log
We don't have any changelog information for version 4.4.8.238 of Malwarebytes Anti-Malware yet. Sometimes publishers take a while to release this information, so check back in a few days to see if it has been updated.
Download Malwarebytes Anti-Malware for Windows Latest Version 2021