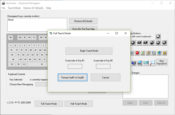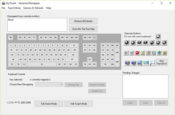 Customize and remap keyboard keys with KeyTweak, intuitive and lightweight application that will allow you to completely customize the keyboard to your needs.
If you're not satisfied with the way your keyboard works, it may be time to consider what each key on your keyboard does.
Or maybe you bought a keyboard with foreign keys and you want to change the behavior of some keys. No matter what problem you have, you can use a specialized application to help you.
One of these applications is KeyTweak. With this tool, you will be able to modify the keyboard keys and change their behavior.
It will act as a visual representation of your keyboard where you will see keys 1 through 126. You can change the keys and their behavior in seconds.
Easily change keys
When installing this application for the first time, you must first make sure that the keyboard is connected to the computer.
After making sure that you can see your keyboard layout in the main window, where you can start making changes.
To do this, you need to click on the key you want to change and assign it to a different key or action.
The remapping process allows you to change all the keys on the keyboard and their actions, giving you more freedom on the keyboard.
Restart the computer after
After changing the keyboard and what it does, you'll have to restart your computer to see the changes.
There are also additional features and functionality in the app, such as viewing mapping changes, using full or partial training mode, saving a mapping change file for future use, and more.
Application
If you want to change the keys on the keyboard and their actions, you can use KeyTweak, a simple and intuitive application to change the keys on the keyboard.
File name:
KeyTweak_install.exe
MD5 checksum:
0437C75EB8B510B7D3715F047B6A84FF
Supported operating system
Windows 11 / Windows 10 / Windows 8 / Windows 7
Download KeyTweak 2.3.1 Latest Version 2021