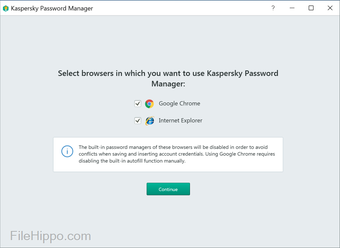 1/3
Kaspersky Password Manager is able to securely store your passwords, addresses & banking details, and can then synchronize them across your various devices, whether that be PC, Mac, Android phone & tablet, or iPhone & iPad.
The app is really easy to setup and use; just install it, and run through a quick process to choose a master password. Next, you need to access the websites that have your login details, which you want the utility to remember. Now you need to populate the database with the required login details. This is then stored and encrypted and on your return visit, the website user name and password will be completed automatically by Kaspersky Password Manager. Kaspersky Password Manager will also automatically populate any needed web forms with your details. In addition Kaspersky Password Manager has a password generator * tool that automatically creates strong passwords for you.
Overall, the app is a great tool that saves all your login user names and passwords into one database **, so you don't have to remember them all. Kaspersky's Password Manager is easy to use, lightweight, has virtually no system impact and is very secure.
* Passwords are generated on your PC – and can then be used on any of the supported devices.
** Kaspersky Password Manager gives you a choice of free or premium versions of the app. The free version will allow you to store fifteen account passwords, addresses or bank card details. However, if you want to manage more items, you can upgrade to the premium version that will allow you to store and manage an unlimited number of passwords, addresses and bank card details.
Technical
Title:

Kaspersky Password Manager 9.0.2.767 for Windows

Requirements:

Windows 8.1,
Windows 10,
Windows 8,
Windows 7

Language:

English

Available languages:

English,
Danish,
Germanium,
Spanish,
French,
Italian,
Korean,
Dutch,
Norwegian,
Polish,
Portuguese,
Russian,
Swedish,
Turkish,
Chinese

License:

Free

Date added:

Wednesday, May 30th 2018

Author:

Kaspersky Lab

https://www.kaspersky.com/

SHA-1:

5aa5d3d994ce5759afdac04998990a2b0182ff62

Filename:

kpasswordmanager9.0.2.767abcdefghijklmar_cs_da_de_en_es_es_fi_fr_it_ja_ko_nb_nl_pl_pt_pt_ru_sv_th_tr_vi_zh-Hans_zh-Hant_26311.exe
Changelog
We don't have any change log information yet for version 9.0.2.767 of Kaspersky Password Manager. Sometimes publishers take a little while to make this information available, so please check back in a few days to see if it has been updated.
Download Kaspersky Password Manager for Windows Latest Version 2021