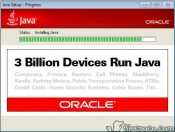 If you are a Java developer you need to download Java Runtime, an indispensable tool that will help you develop software in Java. It is a cross-platform environment that can be used on almost any type of device.
One of the main advantages of Java and its runtime is portability and cross-platform. It helps developers from all over the world to work in an environment designed for anyone, anywhere.
But in order to develop software, you have to download it JRE.
Compatible with any device and software
Developers all over the world use JRE to develop software. This is because it is such a versatile tool. After all, it helps developers use and develop software on almost any platform and device.
Virtual machine
JRE, that is Java Runtime, is well known for having a virtual machine called Java Virtual Machine. This machine makes sure your apps run and run as they should, and also keep running in the background. This is done by running JAR applications which are quite common in the software development world.
When you open an application or play an online game, those applications will try to use these JAR applications, or rather JAR files. And when that happens, your PC will rely on Java, or more specifically the JRE, to make sure your games and applications are running as they should. It allows users to enjoy an enjoyable and complete experience.
In this app's Control Panel you will find several options for configuring your network. It contains internet settings as well as various certificate settings. And for software development, you will be able to use some advanced features such as debugging, console, Java plug-in and many more.
Application
Java Runtime is an environment that helps developers create games and applications using Java and ensures that the user experience when using these applications is at a high level.
Final version:
Update 8.0 321
File name:
jre-8u321-windows-i586.exe
MD5 checksum:
CC0659641171C518A487D2B559F94BCD
Supported operating system
Windows 11 / Windows 10 / Windows 8 / Windows 7
Download Java Runtime Environment 8.0 Update 321 Latest Version 2021