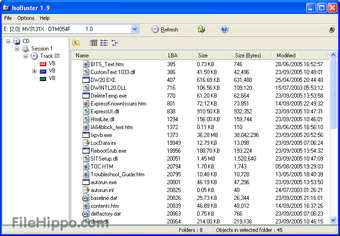 1/3
IsoBuster is an award-winning, highly specialized and easy-to-use CD, DVD and Blu-ray (BD, HD DVD) data recovery tool.
Supports all CD / DVD / BD / HD DVD formats and all popular file systems … Save lost files from bad or damaged CD or DVD, save important documents, valuable photos, family videos, only system backup, … IsoBuster can do it all.
No cumulative costs if you need to handle more than one type of media. IsoBuster is a highly specialized but easy-to-use optical data recovery tool. It supports all optical disk formats and all popular optical disk file systems. Start IsoBuster, insert the disc, select the drive (if not already selected) and let IsoBuster mount the media. IsoBuster instantly shows all tracks and sessions on the media, in conjunction with all current file systems.
Thus, you will have easy access, just like Windows Explorer, to all files and folders on the file system. Instead of being limited to one file system that the operating system chooses for you, you have access to the "complete picture". Access to data from older sessions, access to data that your operating system (e.g. Windows) cannot see or hide from you, etc.
Technical
Title:

IsoBuster 4.9 for Windows

Requirements:

Windows XP,
Windows 8.1,
Windows 8,
Windows 2003
Windows Vista,
Windows 10,
Windows 7,
Windows 2000

Tongue:

English

Languages ​​available:

English,
Arabic,
Danish,
German,
Greek,
Spanish,
French,
Italian,
Japanese,
Dutch,
Norwegian,
Polish,
Portuguese,
Russian,
Swedish,
Turkish

License:

Trial version

Date added:

Tuesday, June 18, 2019

Author:

Smart designs

https://www.smart-projects.net

SHA-1:

77d775298bd6731c8a6d7f30349aa46c21219349
Change log
We don't have any changelog information for version 4.9 of IsoBuster yet. Sometimes publishers take a while to release this information, so check back in a few days to see if it has been updated.
Download IsoBuster for Windows Latest Version 2021