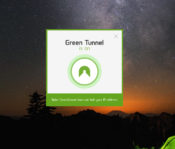 Green tunnel allows you to bypass ISP restrictions when trying to access various websites. The app will run in the background and when you try to access a website this tool will bypass DNS spoofing with DNS over HTTPS and DNS over TLS.
Nice tool to access any website
Green tunnel can best be described as a tool that will help you make sure that you are accessing websites that your ISP may be blocking. After installing this application on your computer, you will be greeted by a small window that acts as the main interface of the tool.
The GUI is not used as a convenient GUI, but rather informs users whether the application is on or off.
Some servers are set up to block access to websites that you may be trying to access. These blocks are imposed by your ISP, which can block certain URLs that try to send DNS requests to find your site and allow it to be opened.
This causes the page to not open. This is what you are trying to remove with this app.
Bypass DNS spoofing
This is called DNS spoofing, and it's common for DNS to fail to provide information about the URL and the webpage won't open.
This happens when your ISP blocks a specific website that you won't be able to view. This software solves this problem and allows you to browse the site even if it is blocked.
Application
In brief, Green tunnel can be a very useful application for anyone looking to access certain websites that their ISP might block.
It will help you access websites that are otherwise not available in your location.
File name:
green-tunnel-windows.zip
MD5 checksum:
8031875FF6E4B10303092A0E7DEB1ACF
Supported operating system
Windows 11 / Windows 10 / Windows 8 / Windows 7
Download Green Tunnel 1.8.3 Latest Version 2021