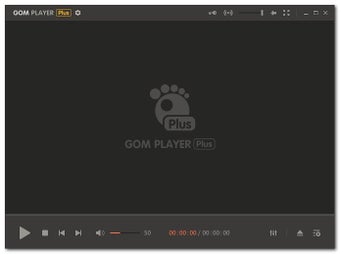 1/6
GOM's player is secure, free media player which offers much more than just playing movies and music. You can also restore damaged files or those that are being downloaded. It comes with a YouTube tab that allows you to search and play videos directly from the app. Playback is available in a variety of modes and configurations that allow you to view or listen to your media in a variety of ways.
Versatility
GOM Player does a lot more than typical multimedia software. The simple interface hides a lot of features including codec lookup, YouTube player, and subtitles. One thing it doesn't do is good file management. This app is more of a browser than anything it aspires to be. Most of your activities will be focused on watching YouTube videos which you were already doing before downloading.
A good feature is the GOM remote. You can control the PC software from your smartphone
There are a few niche features when watching videos on GOM. They serve this so as not to bore you to death doing things you can do in any other app. One feature, in particular, is 360 VR mode. This option allows you to zoom in on the video and look around as if you were in it. While the concept is fun, the actual effect isn't that much. For example, if your device has less than 8GB of RAM, all you will get is a spinning screen with pixels. You won't see much of the action in the movie either. The only thing that can make this work is watching a video made specifically in 360 mode.
GOM has an elegant design with a user-friendly interface. You can easily find what you are looking for – navigation is simple. It is better than Winamp and PotPlayer in this respect. The developer was smart enough to condense most of the setups right-click.
Playing and managing files
GOM plays most types of filesincluding MP3, MP4, AVI, MKV, WMV and ASX. It can also play files that are exclusive to other programs. However, when you open it, the file extension will be converted to ASX as anything you save from this app will become that file type. If you have more than one media player, it's best to keep one default extension. You can set GOM as your default player during installation or at any other time.
One of the weird things about this app is that does not play automatically from the designated folder. In fact, you can't even set the default folder from which files will be loaded from. You have to manually select the songs you want to play from the folder where you store them. Worse yet, every time you close the app, all your songs will be deleted and you will have to re-upload them. To prevent this from happening, you have to save them to a playlist. These playlists would then go to the folder as an ASX file and you have to repeat the process to listen to the music. This is extremely cumbersome, and by itself makes most other applications preferable.
Configurations
GOM has a wide selection of user interface controls. So many you wouldn't know what to do with the majority. For example, you can adjust the aspect ratio of your app in many different sizes. Doing so does not improve playback quality at all, and most users would view the movie in full screen.
This application allows you to play the file in specific frames per second. You can also navigate your media with a few little frames back and forth. This is useful when you are viewing surveillance footage or a recorded voice clip. The good thing is that all of these setups don't clutter the interface. Access them with the right mouse button.
this 360 VR mode it would be an amazing feature if the developers spent a little more time on it. With this mode, little can be obtained except for the pixelated screen which splits as you turn. If you have 360 ​​video, the experience improves a bit, but there are apps that can play it better than GOM.
Performance and problems
Extensive personalization options do not compensate for the poor performance of the GOM. The playback quality is not as high as they claim. Popular media players such as VLC Media Player or WMP play music with the maximum capacity of the sound card. GOM does not. The sound is low and there seems to be no bass in it.
You are tempted to use a viewing app to watch YouTube videos. While this is a cool feature, it consumes a huge amount of data. There is no good reason to stream videos on GOM. this highlights your bandwidth and RAM, which slows down your device significantly.
Another issue is advertising. Pop-up ads will appear every time you close GOM Player. You can turn them off in the settings, but they're still annoying.
Redundancy
The biggest problem with GOM is that it contains too many adjustments. It seems the developers of the game bit more than they could chew. Most of GOM's functions will go unused, not to mention the resources needed to run it. Applications like Groove Music and VLC are widely favored because of their simplicity. However, this app isn't something you want to let it run in the background. Many users enjoy listening to their music while performing other tasks. But if these tasks don't require a lot of memory or data, you will encounter a lag.
Another thing when downloading the free version of GOM is that it may come bundled with other software. They give the possibility to install additional applications such as GOM Audio, GOM Mix and the GOM encoder. Don't do this as this would spam your device with installs.
If you like customization and playback options, GOM offers a lot. But for those who just want to listen to music and watch movies offline, there are many better alternatives.
Technical
Title:

GOM Player 2.3.71.5335 for Windows

Requirements:

Windows 8.1,
Windows 10,
Windows 8,
Windows 7,
Windows 11

Tongue:

English

Languages ​​available:

English,
German,
Spanish,
French,
Italian,
Japanese,
Korean,
Portuguese,
Russian,
Turkish,
Chinese

License:

Free

Date added:

Tuesday, June 18, 2019

Author:

GOM and company applications

https://www.gomlab.com
Change log
We don't have any changelog information for version 2.3.71.5335 of GOM Player yet. Sometimes publishers take a while to release this information, so check back in a few days to see if it has been updated.
Download GOM Player for Windows Latest Version 2021