Free cross-platform gaming client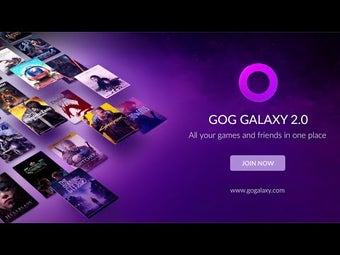 1/3
GOG Galaxy is a client application for the GOG.com online store and the CD Projekt group game service. It offers Cloud Saving Across Multiple Platforms installation backups along with management of game libraries. Other features include cross-platform game statistics monitoring and communication during multiplayer sessions or social networks.
Is it worth using GOG Galaxy?
You probably already use other online stores and services such as Steam or clients for specific gaming software platforms such as Ubisoft Connect. You can integrate using this application to create and manage game libraries from both online shopping and physical support.
You will be able to combine accounts across platforms and titles to track your and your friends' progress and achievements. Which statistics will be available through different media depends on the version of each official or open-source plug in.
Its multi-system availability lets you use it with all your PC games, whether or not you play them Mac or Windows. It also gives you access to an extensive library GOG Storewhich specializes in modernized classic and India games, often offering packages with additional content.
Is GOG Galaxy mandatory for games purchased on GOG?
No; you still can Download and run them manuallybut offers unified launcher, setting control and automatic update functions.
Why a different client and launcher?
The folks at CD Projekt are well aware of the software fragmentation needed to access games. That's why they created Galaxy as a bridge it can offer unified interface and instrument management. Even if you still have to download certain clients, you can ignore them and enjoy having one hub for all your games.
What makes GOG Galaxy right for you?
It is safe and does not sell your data to others. You'll be able to use it on newer Mac operating systems too to play your beloved classic games. this open source community creates plugs to add new features and integration with other platforms. Ease of installation and attentive support from the company are alongside the main features, offering you a comfortable management experience.
Technical
Title:

GOG Galaxy 2.0.44.200 for Mac

Requirements:

Tongue:

English

Languages ​​available:

English,
German,
French,
Russian,
Polish,
Chinese

License:

Free

Date added:

Friday 11th December 2020

Author:

GOG.PL

https://www.gog.com/

SHA-1:

91f5441114a2d29ff296d86786943e7e1e5205c6
Change log
We don't have any changelog information for version 2.0.44.200 GOG Galaxy yet. Sometimes publishers take a while to release this information, so check back in a few days to see if it has been updated.
Download GOG Galaxy for Mac Latest Version 2021