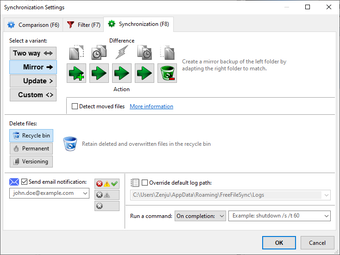 1/3
FreeFileSync is a free, open source folder comparison and synchronization application for Windows. The application also works on Mac OS X and Linux. FreeFileSync provides a clean, easy-to-use and intuitive interface that offers numerous synchronization functions.
Key Features Include:
Detect moved and renamed files and folders.
Automate synchronization as a batch job.
Detect conflicts and propagate deletions.
Use macros for recurring backups.
An optimal sync sequence prevents disk space bottlenecks.
Access variable drive letters by volume name (USB stick).
Copy NTFS extended attributes (compressed, encrypted, sparse).
FreeFileSync also supports portable installation to USB sticks or external hard drives.
Technical
Title:

FreeFileSync 11.16 for Windows

Requirements:

Windows 8,
Windows XP,
Windows 8.1,
Windows Vista,
Windows 10,
Windows 7

Tongue:

English

License:

Free

Date added:

Wednesday, January 16, 2019

Author:

Zenju

https://www.freefilesync.org

SHA-1:

816432184815a188415ee0e6310309435a974f63
Change log
We don't have any changelog information for version 11.16 of FreeFileSync yet. Sometimes publishers take a while to release this information, so check back in a few days to see if it has been updated.
Download FreeFileSync for Windows Latest Version 2021