SwifDoo PDF is a versatile PDF tool that helps you create, edit, convert, merge, compress, sign and read PDF documents.
This free, easy and powerful tool lets you convert any document format to PDF as well. Despite its many features and functions, it offers you an extremely user-friendly interface.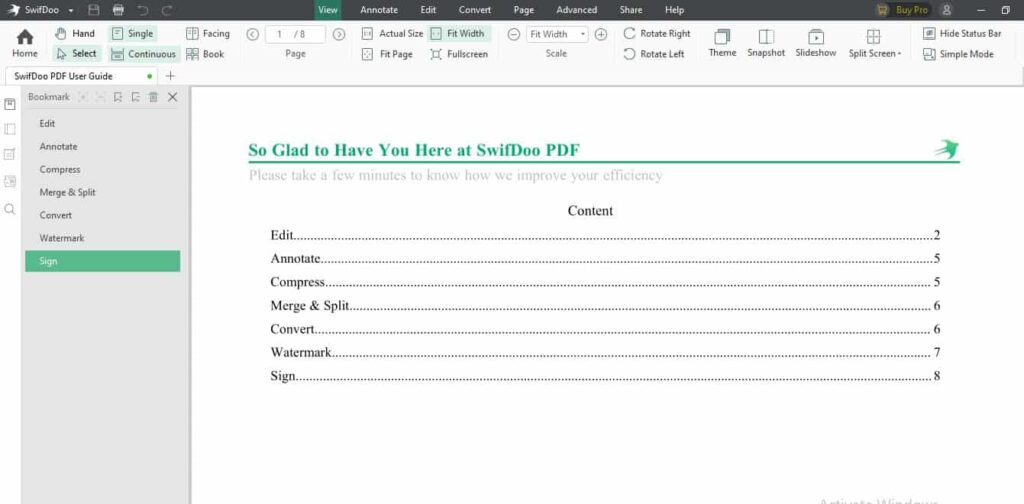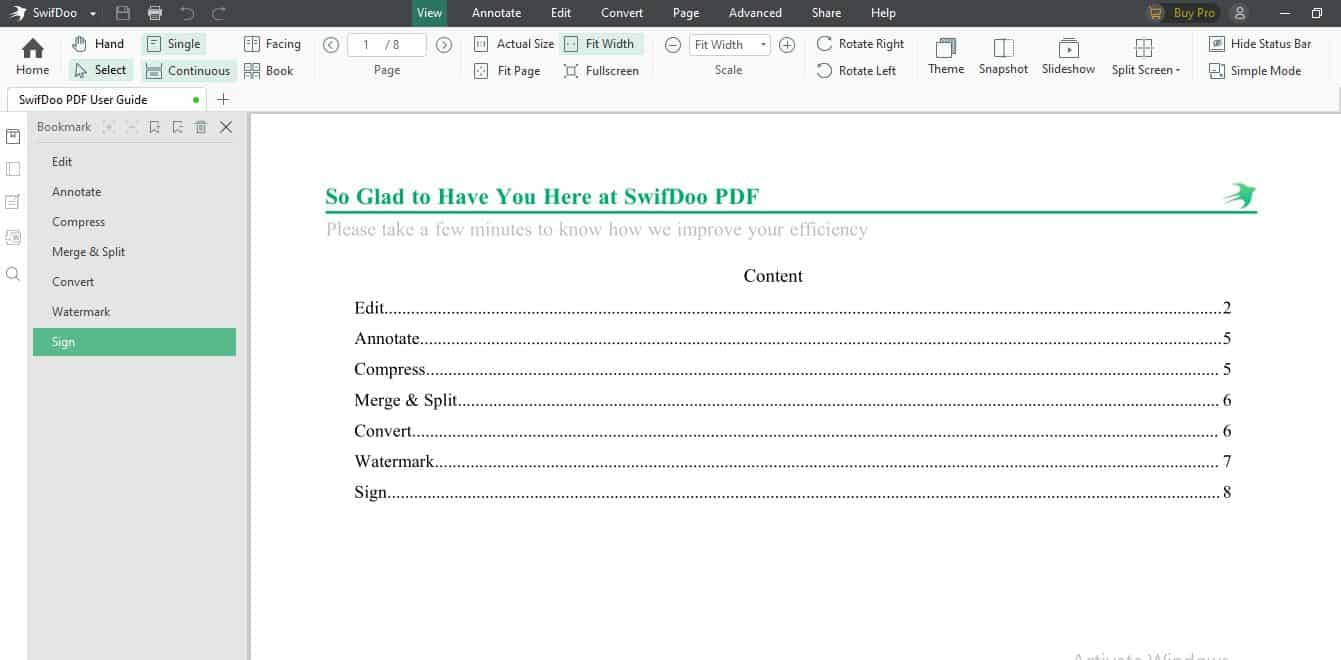 User experience
Running this software only takes a few minutes. Without any delay, you get to the app's main hub. You will get a complete collection of options there, from which you only need to choose what you want to do with your PDF file. This tool only requires you to register with SwifDoo PDF to reap all the benefits, even when you are only on a trial period.
The main page contains all the options for managing PDF files. Just choose to convert PDF to multiple formats like PNG, JPG, PCX, TIFF, PSD, Word and many more, and vice versa. Also choose to edit, compress PDFs, share PDFs and merge files. You will see your latest files under the main tools, again you get the option to create PDF on the left side.
PDF editing
After you have successfully registered with SwifDoo PDF, edit the PDF documents as you wish. Add, delete and edit images or text in your document. Change the size, color, and style of the font that you make in Word, or crop the files and include custom elements. Include or remove hyperlinks, or embed specific types of attachments such as images, presentations, Word files and the like.
Copy and paste text easily. Again, recognize or identify text in a scanned searchable PDF. Everything happens in just a moment.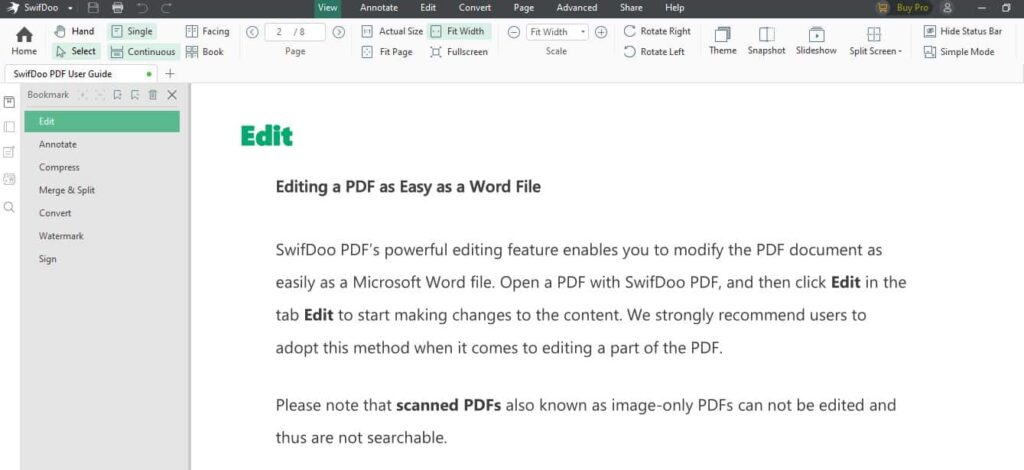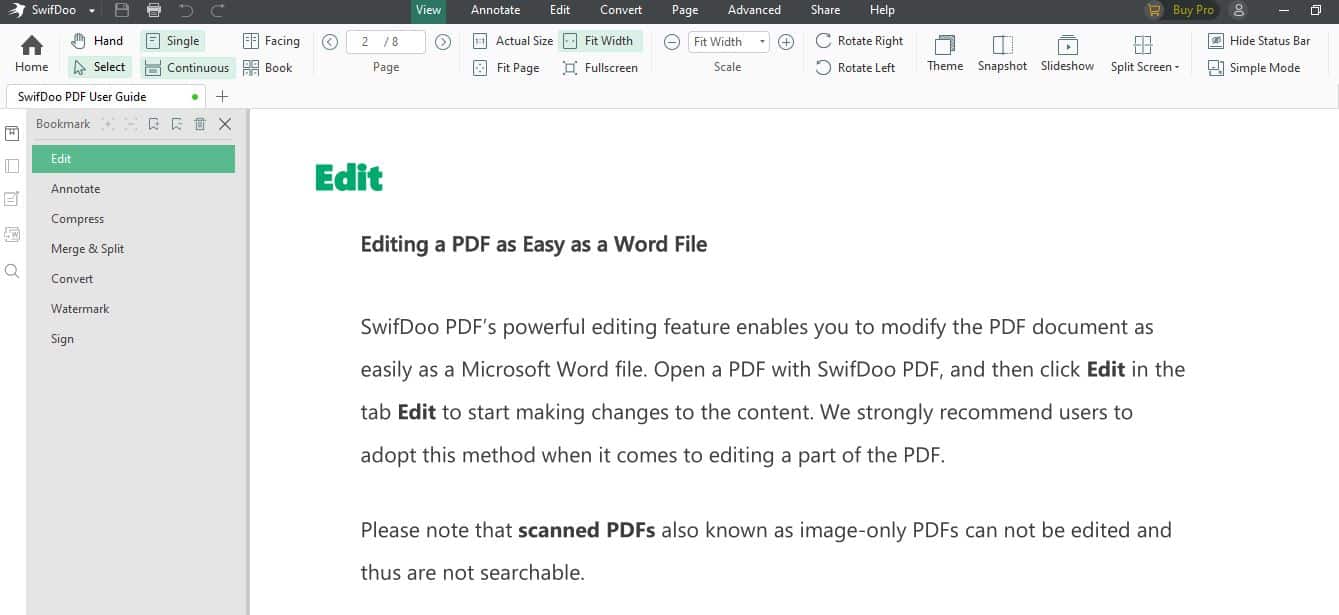 PDF conversion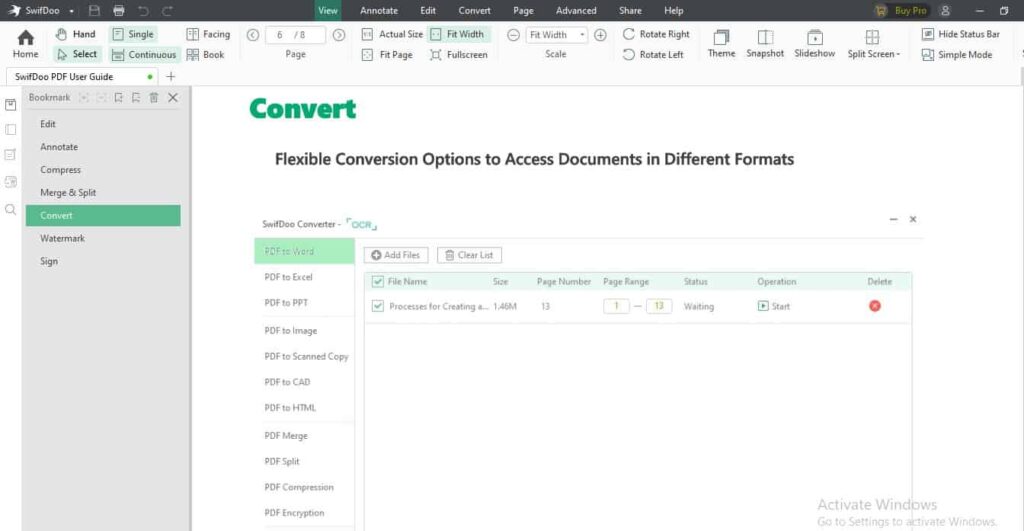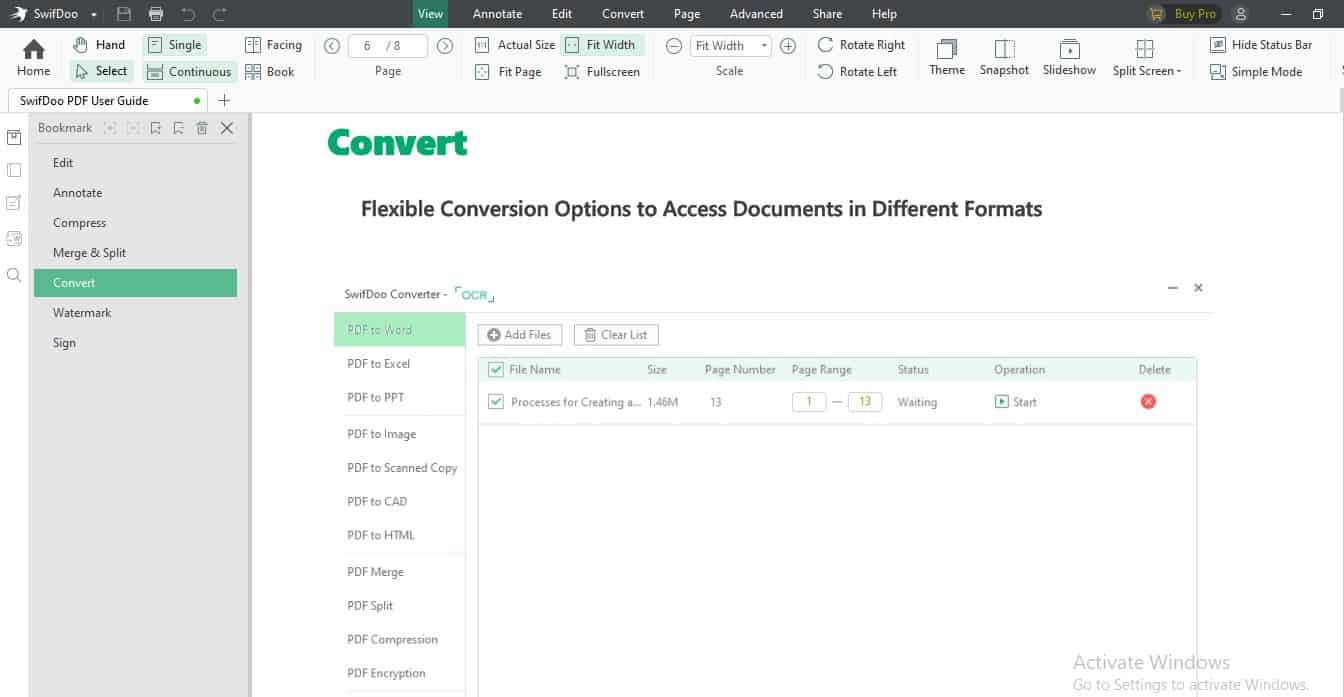 This fast and small PDE converter allows you to convert scanned or text-based PDF files to several formats mentioned earlier, and vice versa. It also allows you to convert multiple documents at once.
PDF compression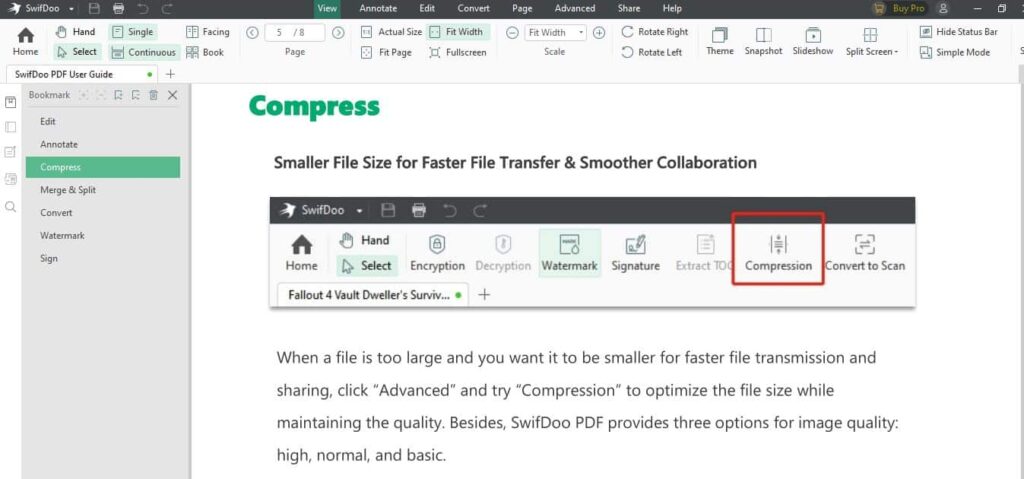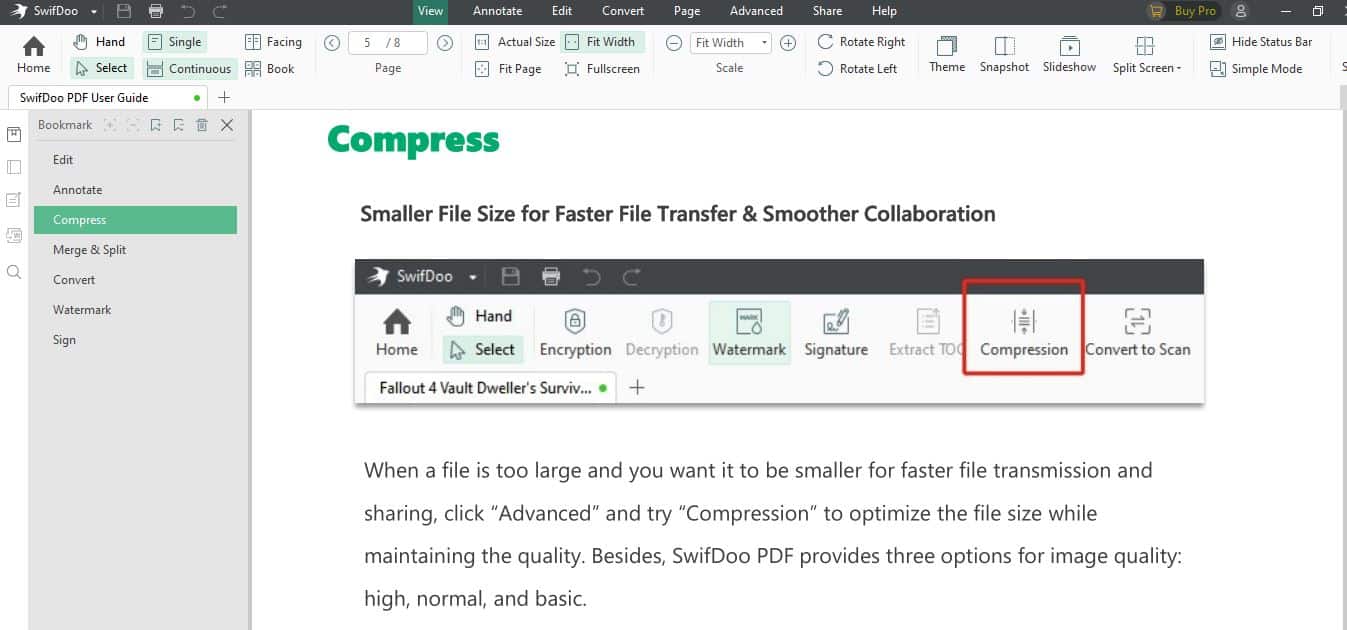 This PDF tool reduces your file size and maintains the same quality and allows you to archive and transfer your files more easily.
PDF merge and share
Merge multiple PDF documents into one file or split your large PDF file into various smaller files with this tool so smoothly and easily. You can also choose which pages to export to the PDF.
To make e-signature
Make an e-signature with this software in three ways: from the image, from typing or by handwriting.
PDF Annotator
This is also a great PDF comment. Here you get all your necessary note-taking tools such as marking, note, stamp, pen and form. Just add comments to your PDF document, and they will remain active regardless of operating system.
Compatibility
SwifDoo PDF is compatible with Windows 10/7/8 / vista / XP.
Benefits
Enjoy its intuitive and user-friendly interface.
Offers you several advanced tools.
Use all your necessary features just by registering for free.
Protect your PDF with double-layer encryption.
Cons
Need to fix some bugs.
Often gets a little slow.
Frequently asked questions about SwifDoo PDF
What types of organizations and users does this software work with?
This popular and fantastic software works well with these mentioned types of organizations and users: small businesses, medium-sized companies, freelancers, companies, government agencies and non-profit companies. So use this PDF tool without hesitation no matter what type of organization you have.
Is this software free?
Yes. This tool has a free trial version. It also has a trial version that you can subscribe to every month for $ 20. You also have the option to subscribe to the trial annually for $ 69. You can also purchase the perpetual license for $ 159.
Can you extract images from your PDF with this software?
Open your document with pictures. Move the cursor to the desired image. Right-click on it and select what you want to do such as edit, copy to clipboard, delete and save with that image.
Is this software secure?
Yes. This popular and amazing software is safe to use. It guarantees the security of your PDF files with differentiated privileges, dual-level password protection and a legally binding electronic signature. You no longer have to worry about data and information leaks.
Conclusion
Now you have to be sure SwifDoo PDF and all other related details about it. It has several advanced features and benefits with minimal drawbacks. So try using this excellent, free PDF tool.
Download Free SwifDoo PDF 2.0.0 Download for Your PC Latest Version 2021