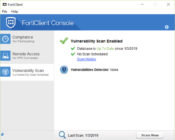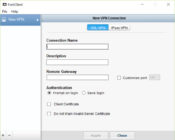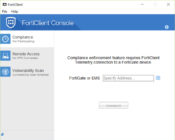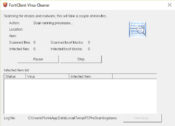 FortiClient is Fortinet's security solution best suited for SMBs to protect against malware and also works as a VPN service.
It allows you to increase the security of your computer and protect it against potential viruses and hacker attacks. It is also an all-in-one solution as it provides VPN service, endpoint management, and anti-virus protection.
Cybersecurity is important these days. You want to stay safe while browsing, and you also want to make sure your identity is protected from potential hacker attacks.
That's why you need a good antivirus solution that will keep you both online and offline safe.
Protect your computer
One of the great things about this software is that it offers a powerful shield for your computer's disks. It will automatically scan the software installed on your computer with an endpoint management solution.
It will monitor all third-party applications and software installed on your computer and warn you about software that is not suitable for your business, so you can avoid unnecessary applications.
Strong VPN service and antivirus
It is a comprehensive solution that will provide you with a variety of tools. One of them is also a VPN service that will help you stay safe while browsing. A VPN hides your real IP address and connects to remote IP addresses to help you stay safe while browsing. FortiClient offers a strong VPN solution.
Of course, we cannot forget about the anti-virus capabilities of this software. It will help you stay safe and stay safe when it comes to online connections.
Sometimes, when you download files from questionable sites, you may receive a file that is a Trojan horse. This file will damage your computer and will dig up your personal data. A good antivirus program helps you avoid this.
Application
FortiClient is a strong security solution by Fortinet that helps you stay safe while browsing the Internet. It has a good VPN service, strong antivirus solution, and endpoint management solution.
Final version:
7.0.1.0083
File name:
FortiClientOnlineInstaller_7.0.0.0083.exe
MD5 checksum:
42311724EF493F31AFA4217845E47B3C
Supported operating system
Windows 11 / Windows 10 / Windows 8 / Windows 7
Author:
Fortinet Technologies Inc
Download FortiClient 7.0.1.0083 Latest Version 2021