A farming simulation game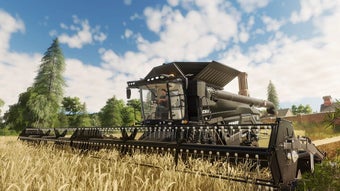 1/4
Farming Simulator 19 is a farming simulation video game developed by Giants Software. This is the seventh installment of the Farming Simulator series for PC. This simulation game maintains the same game mechanics as the previous versions which involve harvesting and selling them to expand your business. In Farming Simulator 2019, you'll find a comprehensive list of vehicles and machines inspired by real farming brands such as John Deere, Case IH, New Holland and many more. New American and European environments are also available in this game. This opens up the possibility of breeding different types of crops and livestock for your business.
Getting started
Before you download Farming Simulator 19, your computer must meet the following system requirements:
Operating system: 64-bit version of Windows 7, Windows 8, Windows 10
Processor: Intel Core i3-2100T at 2.5 GHz or AMD FX-4100 at 3.6 GHz
Graphics: Nvidia Geforce GTX 650, AMD Radeon HD 7770 graphics card
or better
DirectX: DirectX 11
Memory: 4 GB RAM
Memory: 20 GB of free hard disk space
Additional requirements: Sound card
Career
Most of the gameplay takes place in the career mode of Farming Simulator. Here are the three main activities you need to do: Farming, Livestock, and Forestry. This means that you will have to cultivate the fields in order to be able to harvest the crops and sell them later. Trees are also harvested as they are a valuable resource for many products. All harvested fruit, vegetables and wood should be stored in a silo. It is a large metal structure in which you can temporarily store your goods, except for the root crops.
This includes potatoes and sugar beets. You can simply place them on the ground and collect them with a front loader or shovel. In addition to the silo, there is a tipper. It must be placed next to the silo so that items can fall into it. When you're ready to sell your crops, you'll need to park the trailer truck under the pipe. It is important to have this equipment in order to be able to transport goods to your customers.
This can be a time-consuming process, so it's a good idea to hire an employee to help you complete your field work. In addition to selling crops and wood, you can sell cows, chickens and sheep. This also includes their by-products such as milk, wool, and eggs. Pigs are also one of the animals you can sell, but they don't contain by-products. Instead, you will have to sell them to the animal trader.
Daily offline games
The farming simulator is suitable for beginners and experienced gamers who are looking for a relaxing gameplay experience. While there are goals in the game to meet, you can achieve them at your own pace. This means you can create a farming routine that you are happy with. You can also choose to get the most out of your field, so you can harvest more equipment and develop a profitable business.
Technical
Title:

Farming Simulator 19 1.5.1 for Windows

Requirements:

Windows 8.1,
Windows 10,
Windows 7,
Windows 8

Tongue:

English

Languages ​​available:

License:

Paid Parking

Date added:

Thursday 4th June 2020

Author:

GIANTS software

http://www.giants-software.com/
Change log
We don't have any changelog information for version 1.5.1 of Farming Simulator 19. Sometimes publishers take a while to release this information, so please check back in a few days to see if it has been updated.
Download Farming Simulator 19 for Windows Latest Version 2021