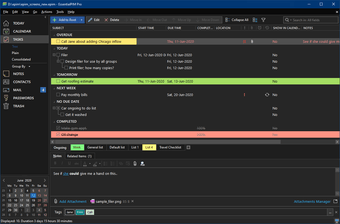 1/6
EssentialPIM is a feature-rich personal information management tool that allows you to keep all your important information in one and safe place on your computer. It lets you manage your appointments, tasks, notes, contacts, password entries, and emails across multiple devices and cloud apps.
EssentialPIM is a flexible and intuitive application that allows you to start managing your information in just a few minutes. It has extensive import, export and synchronization functions to ensure that you take control of your data.
After configuring the application, a clear interface with a neatly organized structure is displayed. Several sample datasets are displayed to give you an idea of ​​how the application is working.
EssentialPIM allows you to create appointments, to-do lists, and notes. With due dates, you can specify start and end times, duration, and location. You can also add priority, completion status, category, notes, reminders, and repeat mode. To-do lists can be created and organized in a similar way. For Notes, EssentialPIM provides standard text formatting options, thus allowing you to insert pictures, hyperlinks, tables and symbols etc. into your work.
Overall, EssentialPIM is an ingenious and intuitive data organizer. It has a good response time and minimal impact on system performance, taking advantage of low CPU and RAM. It also has some really cool features such as the ability to color-code the calendar, password protection for the database, and data synchronization with Microsoft Outlook. So, if you are looking for a free and comprehensive personal data management tool, EssentialPIM is a good choice.
Technical
Title:

EssentialPIM 10.0.2 for Windows

Requirements:

Windows 8.1,
Windows 10,
Windows 8,
Windows 7

Tongue:

English

Languages ​​available:

English,
Arabic,
Danish,
German,
Greek,
Spanish,
Finnish,
French,
Italian,
Japanese,
Dutch,
Norwegian,
Polish,
Portuguese,
Russian,
Swedish,
Turkish,
Chinese

License:

Free

Date added:

Wednesday, June 19, 2019

Author:

Astonsoft Sp.

https://www.essentialpim.com/pc-version

SHA-1:

25294864ae02c9f27353ff68dce8fa9f01f1857d
Change log
We don't have any changelog information for version 10.0.2 of EssentialPIM yet. Sometimes publishers take a while to release this information, so check back in a few days to see if it has been updated.
Download EssentialPIM for Windows Latest Version 2021