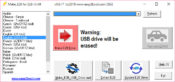 Easy2Boot is one of the most popular and advanced tools for converting a USB drive into a boot device, allowing you to store operating systems on it and easy installation with just the drive.
Installing a new operating system has become easier over the years. Today, it is enough to have enough disk space and a boot device such as a hard disk or a USB drive.
However, to make it easier, it is about the preparation that needs to be done to prepare the operating system for installation.
To help you with this, you can use this app. It is one of the most famous and popular applications for creating boot disks on USB drives that allows you to easily and quickly install operating systems on your computer and customize certain computer components.
No installation
What's more, Easy2Boot it is easy to use. You don't even need to install it on your computer to use it. Instead, you can deploy it from the executable that is included in the downloads you receive, and you can start working right away.
At the same time, it won't affect the Windows registries, so it's quite light to use.
Create a bootable USB
It is an easy-to-use application. If you want, you can create one or more boot disks, so you can get multiple disks, so you can have different operating systems on the disks.
You can also create bootable USBs with a variety of tweezers for your computer's internal hardware, which can come in handy when you want to tweak it.
Overall, it's a great app for installing operating systems without too many hassles. It is also easy to implement and use.
Application
Easy2Boot is a great application for creating bootable USB drives. On these drives, you can install operating systems and other utilities that can help improve the performance of your computer.
File name:
Easy2Boot_v2.11.exe
MD5 checksum:
60A5209E53099454F2050F3AE40C65ED
Supported operating system
Windows 11 / Windows 10 / Windows 8 / Windows 7
Download Easy2Boot 2.11 Latest Version 2021