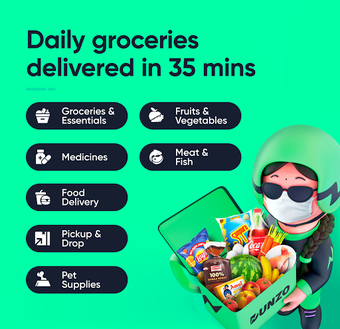 1/7
Dunzo is application for free delivery that works around the clock to provide you with everything you need. With the app you can order food, medicine and almost all groceries except alcoholic products. It is also useful when organizing a package delivery or bike rental.
Send parcels
Using Dunzo, you can send packages anywhere in your city. This service is ideal not only for the delivery of courier items, as they can pick up and bring your laundry, keys and almost all other similar matters. You can easily manage your delivery and pickup details from the app.
Any order size!
Dunzo is the perfect way to shop for groceries, food and medicine delivered straight to your door. The app gives you access to pharmacies, grocery stores, and take-away restaurants such as McDonald's. Additionally, you can also order food from various fine restaurants and have your meal delivered within an hour.
Fast
Dunzo is an extremely fast delivery tool where you can log in and place an order quickly within minutes. When the service confirms your order for food, medicine or groceries deliver them to your location within 45 minutes. This speed makes the Dunzo your ideal delivery partner when you don't have time to shop, urgently need medication, or don't want to queue.
Delivery at any time
Using the Dunzo app, you can place an order for groceries, food or medicines at any time of the day. If the stores are open and the product can be purchased, the service will be by courier it to you. Your only limitation is the shops, pharmacies and takeaways available in your area.
Inaccurate Refund
Dunzo's main drawback is transaction processing and high failure rate. However, this is not the worst of the problem as their refunds for incorrect payments are never visible in your account. That alone is a reason to avoid using the app if you are concerned about the quality of your internet.
Bringing goodness to your door
Dunzo is one of the many great delivery service apps they offer: fast delivery time. However, due to transaction and refund issues, it is advisable to look for alternatives such as Swiggy and Rapido for their individual applications. Overall, Dunzo is a quick way to deliver or transport items across town.
Technical
Title:

Dunzo 3.39.0.1 for Android

Requirements:

License:

Free

Date added:

Wednesday 11 November 2020

Author:

Dunzo Digital

https://www.dunzo.com/bangalore

SHA-1:

83970cc9aa863f4aeaab4cea330ea8d49985b24c

Download options:

APK, Google Play

File name:

Dunzo__Shopping_Shopping__More_3.39.0.1.apk
Change log
We don't have any changelog information for version 3.39.0.1 of Dunzo yet. Sometimes publishers take a while to release this information, so check back in a few days to see if it has been updated.
Download Dunzo APK for Android Latest Version 2021