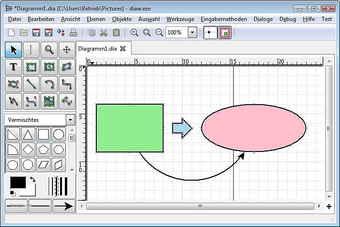 Dia Diagram Editor is an open source visual editing application that you can use to draw many different types of diagrams. Currently, it has special objects to help you draw entity relationship diagrams, UML diagrams, flowcharts, network diagrams, and many other diagrams. It is also possible to add support for new shapes by writing simple XML files, using a subset of SVG to draw a shape. It can load and save diagrams in custom XML format, it can export diagrams to many formats including EPS, SVG, XFIG, WMF, and PNG, and it can print diagrams (including multiple pages).
Dia Diagram Editor allows you to create all kinds of diagrams, from electronic circuit diagrams and computer networks to simple flowcharts for business projects.
The most important features are:
Scriptable via Python.
Over 1,000 predefined objects and symbols.
Easy to use (recommended in 89% of user ratings).
Draw structural diagrams (block diagrams, network layouts, etc.).
Numerous import and export formats.
It supports Windows, Mac OS X and Linux.
Multiple language support.
Dia Diagram Editor supports over 60 languages ​​including Thai, Romanian, Korean, French, Ukrainian, Dutch, Polish, Irish Gaelic, Lithuanian, Mongolian, Slovenian, Macedonian, Latvian, Czech, Finnish, Italian, Esperanto, Catalan, Greek, Marathi , Vietnamese, English, Serbian, Slovak, Chinese (Traditional), Belarusian, Galician, Bulgarian, Turkish, Indonesian, Malay, Norwegian, Brazilian Portuguese, Simplified Chinese, Panjabi, Bosnian, German, Spanish, Arabic, Hungarian and Basque ( Euskara).
Overall, Dia Diagram Editor has a clean interface, extensive language support and a small footprint. It's relatively easy to use, and you can export your diagrams in many graphic formats, including Microsoft's top-quality visual editing application, Visio.
Technical
Title:

Dia Diagram Editor 0.97.2 for Windows

Requirements:

Windows XP,
Windows 2003
Windows 8,
Windows 98,
Windows Vista,
Windows 10,
Windows 2000,
Windows 7

Tongue:

English

Languages ​​available:

English,
German,
Spanish,
French,
Italian,
Japanese,
Polish,
Chinese

License:

Free

Date added:

Tuesday, October 27, 2015

Author:

The Dia

https://www.dia-installer.de

SHA-1:

bf774bf6902e390d2a4ade45dde41f905c60ceeb
Change log
We don't have any changelog information for version 0.97.2 of Dia Diagram Editor yet. Sometimes publishers take a while to release this information, so check back in a few days to see if it has been updated.
Download Dia Diagram Editor for Windows Latest Version 2021