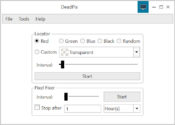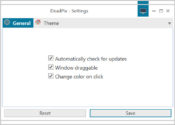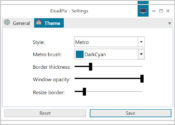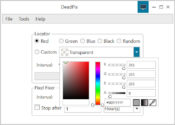 If you want to identify dead screen pixels, you have to use DeadPix. This is one of the simple applications that you can use to determine screen dead pixels. The installation process is simple which can be easily managed by a novice.
Moreover, running the program and getting results also does not require specialized knowledge.
This application allows you to use custom colors to identify dead pixels. Red, green, and blue are the basic options available, but if you want other colors to be part of the process, you can select those colors or specify a custom color picker value.
Additionally, the time between color bursts can be adjusted using this app. Controlling the use of this function is not complicated. You can press "-" to shorten the time interval, and use "+" to increase the blink interval.
Narrowing down the pixel location and repairing it is also possible with DeadPix. You can even define the screen area manually. Continuing the flashing process for a few minutes may help improve screen performance.
However, success in the pixel repair process is not guaranteed. It may succeed, but the attempt may also fail.
DeadPix is a tool to identify dead screen pixels and repair them to optimize performance.
MD5 checksum:
9226AA0C97A4CC711818FB8E0C32838D
Supported operating system
Windows 11 / Windows 10 / Windows 8 / Windows 7
Download DeadPix 1.2 Latest Version 2021