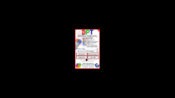 Do you have multiple monitors connected to your network, or is it old enough that its pixels are not in the right condition? In both of these situations, the use of Dead Pixels Tester it is highly doable.
First, the app's interface is quite colorful, so you can use it frequently. Second, the same color interface makes its use and interpretation easy.
As the interface allows you to choose different colors for different monitor pixel situations, in case of any change in pixel hue you will be automatically informed about the problem in pixel.
However, you don't have to use solid colors, you can only choose from different patterns available in this app. In other words, it makes it easier for you in all possible ways.
By Dead Pixels Tester, you can find problems in your monitor's pixels every time within seconds.
MD5 checksum:
B20B6A7621D0308DB0B36281FBDC5116
Supported operating system
Windows 11 / Windows 10 / Windows 8 / Windows 7
Author:
Data Product Services Ltd
Download Dead Pixel Tester 3.00 Latest Version 2021