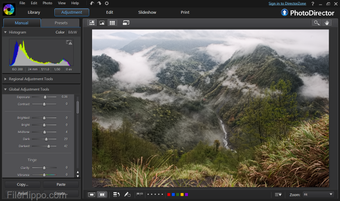 1/3
PhotoDirector is a complete photo customization and design package to edit amazing photos. It is designed to stimulate your creativity and help you edit impressive photos for family, travel, landscapes and portraits.
Thanks to a wide range of automatic and manual editing tools, you'll get perfect portraits and landscapes every time. Supports automatic lens adjustments with an ever-growing collection of over 100 lens profiles and a range of manual adjustment tools, including anti-haze, edge removal, motion and blur tools, and beautification tools to make your images stand out.
The most important features are:
Editing video to photo.
Colorful splash.
Face swap.
Beauty tools.
Color and shade adjustment.
Create animated GIF files.
Comprehensive tools for creating frames and watermarks.
Create advanced slide shows.
Supports RAW file format.
Editing layers *.
360 photo editing *.
Smart panorama with video *.
Motion and blur tools *.
With PhotoDirector, you can create amazing landscape and travel photos. With video to photo editing, you can take a perfect snapshot of your video and create photos with motion. With 360º photo editing, you can hide tripods and selfie sticks, create amazing panoramas and create your own little planet.
PhotoDirector Ultra's advanced layer editing unlocks an amazing range of powerful editing techniques. Create stunning images quickly and easily using the express layer templates, then play with image layers for unique photo effects.
Overall, PhotoDirector is a complete photo customization package with advanced editing tools to create amazing family and travel photos, landscapes and portraits. Enjoy a 30-day free trial of PhotoDirector Ultra to test all its advanced features before deciding to upgrade. Try it today and start your creativity.
* Only available with PhotoDirector Ultra.
Technical
Title:

Cyberlink PhotoDirector 13 for Windows

Requirements:

Windows 10,
Windows Vista,
Windows 8,
Windows 7

Tongue:

English

Languages ​​available:

English,
German,
Spanish,
French,
Italian,
Japanese,
Korean,
Chinese

License:

Trial version

Date added:

Thursday 3rd May 2018

Author:

CyberLink

https://www.cyberlink.com/

SHA-1:

0cde5e7cb75b4f05447520d1742b67efbe4b984f
Change log
We don't have any changelog information for version 13 of Cyberlink PhotoDirector yet. Sometimes publishers take a while to release this information, so check back in a few days to see if it has been updated.
Download Cyberlink PhotoDirector for Windows Latest Version 2021