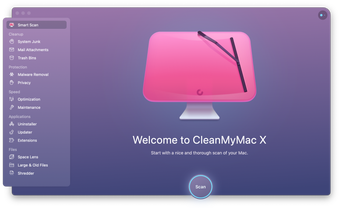 1/11
CleanMyMac X is a powerful, feature-rich and intuitive tool to monitor and clean your Mac to optimize performance. It has a simple, intuitive interface that makes it very easy for anyone to use. With just two clicks, CleanMyMac X scans your entire system and removes gigabytes of garbage to keep your Mac like new.
Cleaning your Mac has never been easier. CleanMyMac X scans every inch of your Mac with one click, then removes any junk it finds to optimize your Mac's performance. It only selects files that are 100% safe to delete, so you'll never have to worry about accidentally deleting an important file again. CleanMyMac X can even discover files you forgot by collecting all files that haven't been opened in a long time, so you can decide what is really worth keeping.
The most important features are:
Intuitive scanning.
Handy dashboard.
Mac acceleration and maintenance.
Uninstaller.
System junk removal.
Find hidden files.
Disable startup applications.
Cleanup of iTunes, Mail and Photos.
Increase privacy.
Surf the Internet faster.
Safe file eraser.
Mac health alerts.
Built-in security database.
24/7 support.
CleanMyMac X makes it easier to maintain your Mac and improves its performance. It removes unwanted applications properly without leaving any system-burdening residues. Optimize your Mac in a way you never thought possible before and take its performance to a whole new level. It also keeps your online and offline activity private by removing your digital footprint with one click.
With CleanMyMac X, the health of your Mac is a top priority. Send alerts and notifications about your Mac's health, including high memory usage, low SSD life, and high drive temperature. If there's a problem, CleanMyMac X tells you exactly what's going on and how to fix it right away.
Overall, CleanMyMac X is an intuitive Mac cleaning, maintenance and optimization tool that is extremely intuitive, elegant and easy to use. You can scan your entire system and delete tons of unnecessary files to improve performance with just two clicks. It is feature-rich and offers more advanced features than some alternative tools, offering better efficiency in removing unnecessary files. It's a good price for the number of features included, and even includes a 30-day money-back guarantee and a free version. Interested? Download CleanMyMac X today and try it out for yourself.
Read the full CleanMyMac 3 review on FileHippo.
Technical
Title:

CleanMyMac X 4.10.1 for Mac

Requirements:

Tongue:

English

Languages ​​available:

English,
Chinese,
German,
Spanish,
French,
Italian,
Japanese,
Korean,
Dutch,
Polish,
Portuguese,
Russian

License:

Trial version

Date added:

Friday, June 14, 2019

Author:

MacPaw Inc.

https://www.macpaw.com

SHA-1:

0871980d6b8f007d042b91246ec8331848f70cfe

File name:

CleanMyMacX.dmg
Change log
We don't have any changelog information for version 4.10.1 of CleanMyMac X yet. Sometimes publishers take a while to release this information, so check back in a few days to see if it has been updated.
Download CleanMyMac X for Mac Latest Version 2021