Free VPN connection service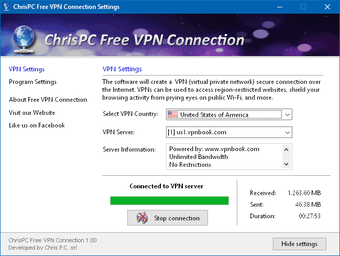 ChrisPC Free VPN Connection is an internet connection service that allows you to create a virtual private network (VPN) to access to free servers in different countries. You enjoy accessing location-restricted content such as Free and On-Demand TV, or bypassing area restrictions for services such as Google, Facebook, and YouTube.
You can download this free software in English on computers from Windows 7 to Windows 11. Alternative virtual private network options you can download include Turbo VPN, Urban VPN, and Betternet Free VPN.
Why Use a Virtual Private Network?
Virtual Private Network encrypts your internet traffic sending it through an encrypted tunnel to the server. From the server, it enters the public Internet, but displays the provider's IP address and hides your IP address.
One of the main benefits is that it gives access to any content with a restricted area. If you choose to use a VPN server in a specific country, it will appear as that location, giving you access to all content available in that country.
The best features
The service gives you access to database of over 90 free VPN serversincluding countries such as the USA, Great Britain, Germany, Russia and Poland. It allows you to bypass area restrictions to access all content from video sites like BBC iPlayer, Channel 5, FOX, CNN, and TVNow.
You can also access to popular social media platforms like YouTube, Twitter and Facebook without location restrictions. The connection service is compatible with all browsers and can start when Windows starts.
System requirements
The service requires 1500 MHz processor or faster. For example, an Intel Dual-Core processor can be used. It also needs more than 1 GB of RAM and at least 15 MB of hard disk space.
This virtual private network connection is also compatible with older versions of Windows such as Windows XP. It works on browsers like Edge, Chrome, Safari, and at least Internet Explorer 7, as well as Firefox 3.
No more area restrictions
Free ChrisPC VPN connection hides your IP address. Based on the location of the server you are using, you can have full access to all content available for that particular location. The setup is quite simple even for beginners, and it's great for business trips or vacations.
Latest release offers download videos faster with YouTube Downloader and better support for Windows 11.
Technical
Title:

Free ChrisPC 2.23.15 VPN Connection for Windows

Requirements:

Windows 11,
Windows 10,
Windows 8,
Windows 7,
Windows 8.1

Tongue:

English

License:

Free

Date added:

Thursday, December 9, 2021

Author:

Chris PC srl

http://www.chris-pc.com

SHA-1:

69d9d6399a91bd01b6a203c508298f84bc24f845
Change log
We don't have any changelog information for version 2.23.15 of the free ChrisPC VPN yet. Sometimes publishers take a while to release this information, so check back in a few days to see if it has been updated.
Download ChrisPC Free VPN Connection for Windows Latest Version 2021