A simulation of the management of the Chinese empire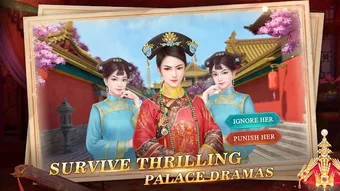 1/3
Call Me Emperor is a mix role-playing game and management simulation set in a fictional ancient Chinese empire. Through a combination of text choices and combat, you must try to expand your empire, defeat enemies and gain allies.
You are the emperor
As with similar titles such as Game of Sultans and Legend of Empress, you start out in a position of power. The aim is: hold your place as emperor forming alliances, fighting rival leaders and keeping their citizens happy.
Call Me Emperor is developed by Clicktouch, independent Chinese developer, and uses similar gameplay mechanics and visual novel style to other titles. Animations are limited, but the game still looks nice and doesn't eat up memory on mobile devices.
Free games
this free-to-play model it's very popular with mobile titles as it means it's free to download the game, but the developer earns money from embedded ads or blocking some content behind a firewall.
Call Me Emperor has ads, but few of them. There are also microtransactions for in-game items, including gold and character skins. However, you can play the game, or at least a large part of it, without parting with your real money.
Game
You manage your empire by clicking on the map to enter various buildings (e.g. Imperial Academy, Grand Council) and then assigning appropriate serving roles. For example, a minister in the Great Council will spend several hours advancing. Once reached the 5th rank and became the minister of legends, this in turn unlocks the minister's estate and more gameplay options.
Other actions such as (mostly automatic) battles provide fame and others vaguely esoteric currencies, like intimacy. They then either level up you and your troops or unlock spouses for extra stories and missions.
Seemingly simple
Even though the game is bombarding you with stats, it quickly turns out that most of them can be largely ignored. Call Me Emperor is relatively simple and comes with a few surprises. However, it does several innovative features in the royal sleeve, like the ability to ally with other players.
Technical
Title:

Call Me Emperor 3.6.1 for Android

Requirements:

License:

Free

Date added:

Friday 20th November 2020

Author:

Clicktouch Co., Ltd.

SHA-1:

5b8e5eeaf2fc04a3514fa112d947f35dbd59e928

Download options:

APK, Google Play

File name:

com-wsy-google-wansuiye-en-361-61150334-eb7f48d40ab29939e3715343e8f9ec79.apk
Change log
We don't have any changelog information for version 3.6.1 of Call Me Emperor yet. Sometimes publishers take a while to release this information, so check back in a few days to see if it has been updated.
Download Call Me Emperor APK for Android Latest Version 2021