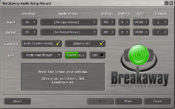 Breakaway Audio Enhancer allows you to control and enhance the audio output, providing sound effects compatible with Windows Media Player and more.
If you want to improve your music listening experience, you can use Breakaway Audio Enhancer. It is an audio enhancement tool that provides similar tools that editors use in the studio to improve music.
You will be able to apply various effects, change the music and make it sound exactly the way you want.
Control the sounds
It gives you the ability to control the sounds coming from your computer. For example, you can control the sounds that come out of your web browser or change the sounds made by other applications.
Provides a lot of freedom when editing audio.
You will control various aspects of the sound, such as changing the volume and equalizing the sound coming from different sound sources.
You'll be able to equalize the sounds so you don't have to tweak the sounds of one app to be louder than the others you're using.
Hand tools or preset
When using this app, you will be able to choose from a range of handheld or preset tools. If you have a bit of knowledge and skill at this level, you'll be pleased to know that you'll be able to change almost every aspect of your audio experience.
It includes changing the volume, applying effects, and more.
However, if you want a more automated approach, you can certainly use the presets included in this tool.
this Basic pre-setting it is versatile and can be used for almost any type of audio you are listening to. Other presets include Reference Classical, Easy Listening, and others that can help you improve your experience.
Application
Breakaway Audio Enhancer allows you to change and control the sounds coming from your computer.
File name:
breakaway_setup_1.42.00.exe
MD5 checksum:
F618AF7EDBD7461C887B494A31F8AEBB
Supported operating system
Windows 11 / Windows 10 / Windows 8 / Windows 7
Author:
Claesson Edwards Audio
Download Breakaway Audio Enhancer 1.42.00 Latest Version 2021