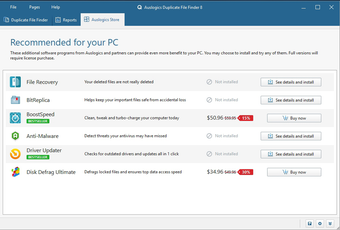 1/3
Often times, your computer's hard drive fills up very quickly. You can have thousands of photos, videos, music, or documents, and most of them you'll probably never open! It's a good idea to clean your system regularly, but it can be a long process and some people get overwhelmed because there are too many files to sift through manually. Fortunately, there are tools available that can make the task easier.
Auslogics Duplicate File Finder helps you find and remove any unnecessary duplicate files to free up disk space and organize your file collection properly.
Auslogics Duplicate File Finder gives you complete control over your duplicate list and lets you decide which copy to keep. It uses intelligent algorithms to compare not only the file names but also the content to make sure there are no fraudulent search results.
After scanning for duplicate files, you can select all found items, all duplicates in each group, or one item in each group. In addition, you can browse the file properties, explore the containing folder, sort the items ie ascending, by name, etc. Then you choose the delete method you want to use and go.
Auslogics Duplicate File Finder uses a small amount of system resources and is relatively lightweight. It is easy to use and can be operated by users of all skill levels.
Overall, Auslogics Duplicate File Finder provides a simple and easy way to remove any duplicate files. It is worth noting that this is not the most functional application on the market, however it is a free application.
Technical
Title:

Auslogics Duplicate File Finder 9.2.0.0 for Windows

Requirements:

Windows Vista,
Windows 10,
Windows 8,
Windows 7,
Windows 8.1

Tongue:

English

Languages ​​available:

English,
German,
Spanish,
French,
Italian,
Japanese,
Russian

License:

Free

Date added:

Wednesday, March 27, 2019

Author:

Auslogics

http://www.auslogics.com/
Change log
We don't have any changelog information for version 9.2.0.0 of Auslogics Duplicate File Finder yet. Sometimes publishers take a while to release this information, so check back in a few days to see if it has been updated.
Download Auslogics Duplicate File Finder for Windows Latest Version 2021