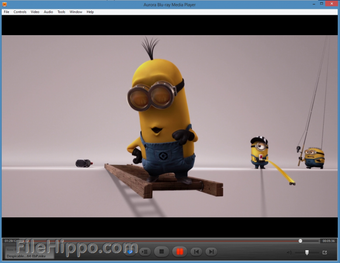 Aurora Blu-ray Media Player is a high-quality Blu-ray media player for Windows. It is specially designed for PC users to enjoy protected and unprotected Blu-ray movies on their computer. Aurora Blu-ray Media Player is a multi-functional utility that can play Blu-ray movie discs and Blu-ray ISO image files. It can also be used as a DVD player, media player, audio player, and photo viewer.
It conveniently supports various multimedia formats such as Blu-ray, DVD movies, Video CD, HD media, 1080P media, RMVB, MKV, MOV, AVI, FLV, MP3, WMA and AAC. The Aurora Blu-ray media player gives you free control of your playback options and is designed to play both protected and unprotected discs.
The most important features are:
Video and audio playback.
View photos in a slide show.
Play Blu-ray discs and image files.
Subtitle support.
Support for sharing on social media.
Supports DTS HD 7.1, AC3 / DTS 5.1.
Free media player.
Blu-ray player software enables users to deinterlace the interlaced videos to get better visual quality. Since using this feature will require additional CPU usage, you can simply check the auto deinterlacing option in the Preferences pane to get the appropriate level of deinterlacing according to your system configuration. PC users can enjoy the high-quality Blu-ray player which provides the output of multiple audio tracks. The Aurora Blu-ray media player supports DTS HD and AC3 / DTS 5.1 audio.
Aurora Blu-ray Media Player has a number of options for adding subtitles and playing movies and music in different languages. It even supports social media sharing options so you can share your reviews with friends on Facebook or Twitter while watching.
Overall, Aurora Blu-ray Media Player is a very efficient media player. The configuration settings are pretty good with options to let you play any title / chapter, adjust the playback screen size as well as customize your own style preferences like language selection etc.
Looking for the Mac version of Aurora Blu-ray Media Player? Download here
Technical
Title:

Aurora 2.19.4 Blu-ray media player for Windows

File size:

34.20 MB

Requirements:

Windows 7,
Windows Vista,
Windows XP,
Windows 8.1,
Windows 8,
Windows 10

Tongue:

English

Languages ​​available:

English,
Arabic,
Czech,
German,
Spanish,
French,
Italian,
Japanese,
Dutch,
Polish,
Portuguese,
Russian

License:

Trial version

Date added:

Wednesday, January 16, 2019

Author:

Aurora Software Inc.

https://www.bluray-player-software.com

SHA-1:

e317dbe995fe3d9496f2c395e854b99cb63c48c8

File name:

Aurora_Bluray_Media_Player.exe
Change log
We don't have any changelog information for version 2.19.4 of Aurora Blu-ray Media Player yet. Sometimes publishers take a while to release this information, so check back in a few days to see if it has been updated.
Download Aurora Blu-ray Media Player for Windows Latest Version 2021